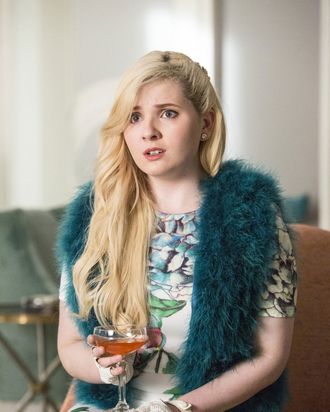 Abigail Breslin.
Photo: Fox
Step aside, millennials. Generation Z is taking over. "I feel like we are very in tune with what's going on in the world and we kind of have a weird sense of impending doom," said Gen Z's very own Abigail Breslin at last week's Scream Queens red-carpet premiere. "We kind of always feel that way so we try to do everything very quickly. That's why we kind of have these super-fast-paced lives and we are always on our phones and everything. We want to see and take in everything because there has been a lot that has gone down before us, so now we are like, 'All right. We've got to get everything in and do everything before it's all done,'" added the 19-year-old, who plays Chanel No. 5 in the new Fox horror-comedy series.
Described as the age group born in or after the late 1990s, Generation Z consists of the highly digital youngsters who have never known a time without internet or social-media networking — and they can be quite intimidating.
"There's never been a more technologically savvy generation," said co-star Skyler Samuels, who plays fellow Kappa Kappa Tau pledge Grace Gardner. "I look at my brother who was born in 2000. He is almost 15 years old. He knows how to do computer science. He can code a website in his sleep, and he just taught himself how to do it. I mean, we have a crazy-smart generation on the rise. I can't include myself. I was born in 1994, so I missed the cusp of that. But Generation Z is going to be hella smart. We better watch out." Oh, we will be.