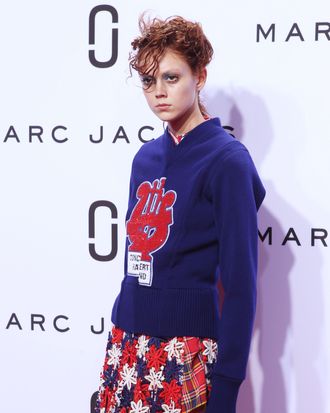 A look from Thursday's Marc Jacobs show.
Photo: Antonio de Moraes Barros Filho/Getty Images
Put down your Latisse and brow-growth serums, and unpin that picture of Cara Delevingne from your vision board: The eyebrow's tyrannical reign of terror over the beauty world may be over. The next time someone tries to tell you about brow rehab, wave a picture of yesterday's Marc Jacobs makeup look in their face.
When asked what he did to his models' brows, Francois Nars replied, "Nothing," which seems to be something he enjoys saying. "I like to do something different," he explained. "We didn't groom them. I like when they aren't even brushed." The brows were neither thick, full, strong, bold, nor any of the words associated with brow trends these past few years.
While this may not mean you never need to groom your brows ever again, perhaps it means you can finally stop stressing out about those tiny little hairs. Francois says relax.