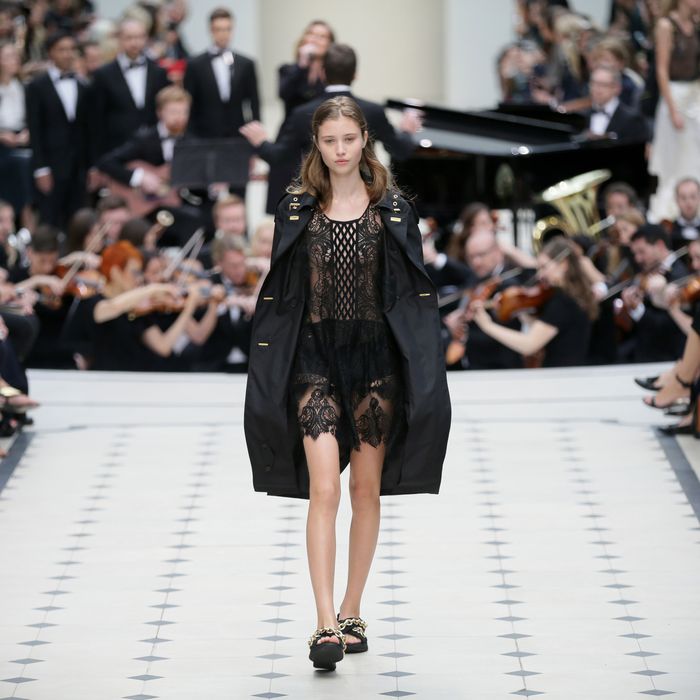 One of the looks at Burberry Prorsum's spring 2016 show.
Photo: Tim Ireland/Corbis
It was no surprise last week when Burberry became the first designer label to launch its own channel on Apple Music. Since the beginning of Christopher Bailey's reign, music has gone hand in hand with the brand's fashion offerings — from the launch of Burberry Acoustic in 2010, which curates live performances from British artists, to the autumn-winter 2015 campaign with singer Tom Odell. Burberry Prorsum shows have also, season by season, featured increasingly conspicuous acoustic performances from artists like Paloma Faith and James Bay — and today, at London Fashion Week, Bailey finally gave the music center stage.
As usual, the Burberry Prorsum show was held in a grand tent in Kensington Gardens (and, as usual, there was something both luxurious and faintly ridiculous about stepping off the muddy grass and straight onto a plush cream carpet). But today, the layout had changed for the first time in years. Rather than being relegated to one end of the runway, the orchestra and singer — this time Alison Moyet — were on a sunken stage in the middle of the venue, with models circling during the performance.
Front row, Benedict Cumberbatch and his wife, Sophie Hunter, were in prime position to see it all. They were seated alongside Naomie Harris, Cara Delevingne, Kate Moss, Sienna Miller, and Suki Waterhouse, while Jourdan Dunn sat farther along the row, looking the fiercest of all in a teddy-bear shearling coat and a Burberry sweatshirt.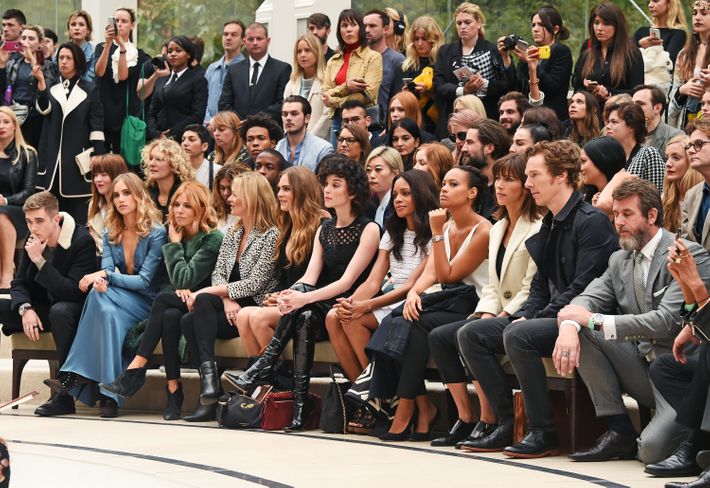 If the layout seemed to reflect some reconsidered priorities, the collection also suggested a new mood at Burberry HQ. The last few seasons, in both menswear and womenswear, have been overwhelmingly bohemian — often with artists and writers listed as inspirations in the show notes. This collection felt like a palate cleanser, making way for a sexier, more modern Burberry.
Gone were last season's dreamy florals and 1970s silhouettes. For spring/summer 2015, Bailey has designed an almost monochrome collection — primarily in black, gold, and cream — with a more glamorous, nighttime feel. Long silk skirts were paired with lace camisoles, and the brand's famous coats were glitzed up with buttonholes and epaulettes in metallic gold. Bags came in the form of low-slung black rucksacks with monogrammed buckles, and a long, pleated cape was alluringly chic. There were nipple-baring macramé minidresses, but also beautiful backless gowns with a hint of sparkling disco style.
At Erdem two years ago, I watched guests unceremoniously sprint for the door while a cellist and a pianist, who had played beautifully throughout the show, packed up without acknowledgement. Today, Moyet and the orchestra triumphantly held the audience's attention (and applause) for minutes after the show ended. Bailey may be in fashion first and foremost, but he's becoming one of the British music industry's most effective cheerleaders.