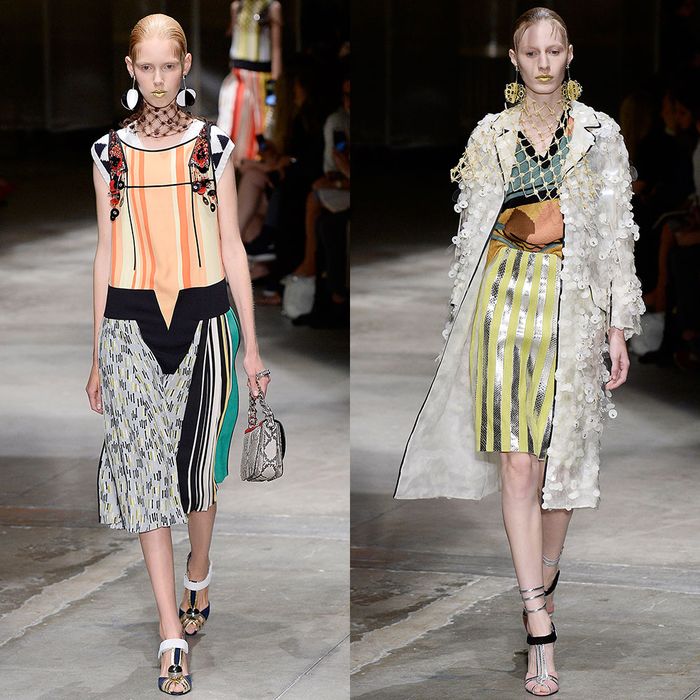 Prada Spring 2016
Photo: Getty Images
After last season's candy-coated romp, Miuccia Prada showed an equally '60s-inspired, but less sugary, vision for spring 2016. Her maximalist-quirk phasers were set to stun: dangling earrings shaped like Buckyballs, jeweled necklacelike overlays that tied in back, and shiny striped patent jackets. The models strutted out to trancelike sax music and a Francophone cover of "Cry Me a River" in pointy T-strap shoes with silver-ball details or shiny go-go boots. The silhouettes? They were Mod all the way, with drop waists, high hemlines, and boxy jackets. But Prada is never straightforwardly retro, no matter the decade she's channeling. So she exaggerated things: ultrasheer skirts, and a panoply of patterns on contrasting sleeves, dickies, vests, and skirts. A single look might mix multiple stripes, tweeds, and a dose of glitter without breaking a sweat.
There were plenty of exotic skins, including two astrakhan coats. The final "wow" came from decorative coats covered with wall-to-wall paillettes in varying sizes layered over sheer organza — hardly downpour-proof, yet sure to be making the street-style rounds before we know it.
Credit where credit is due: The bricolage look that's been dominating this season is hardly anything new for the designer. She's been doing it for years, since before many of its newest proponents were in design school. Still, she presented a strong argument for to-the-nines maximalism. And she proposed some new proportions, like a sheer '90s slip dress layered over a collared shirt with a jazzy line print, or a button-down peeking out from under one of her striped suits. (Ettore Sottsass and his Memphis group have been in the air, across design disciplines, for a few seasons now, and her kinetic mix, not to mention her palette of apricot, teal, and yellow, seemed to reflect that influence.)
Gabrielle "Coco" Chanel famously advised, "Before you leave the house, look in the mirror and take one thing off." That's all well and good for the minimalists among us, but if you swing more Nancy Cunard, Prada made piling more on look pretty inspiring.