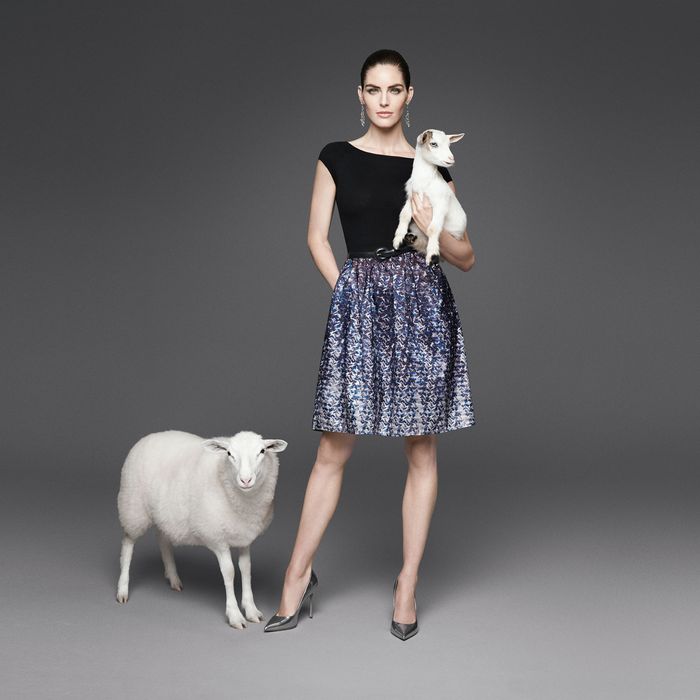 An image from Dressbarn's campaign.
Photo: Patrick Demarchelier/Courtesy of Dress Barn
What do you do when you're running a 53-year-old company with over 830 stores and you want a new image? You bring in an ambitious executive like Lori Wagner, Dressbarn's chief marketing officer and executive vice-president of digital e-commerce — and then she brings in Patrick Demarchelier.
The legendary photographer, whose clients include Dior, Céline, and Louis Vuitton, shot the brand's fall 2015 campaign with runway model Hilary Rhoda, stylist Anne Christensen, and a few farm animals. (Yes, Dressbarn is aware that its name might be seen as an impediment. No, the company has no plans to change it.) The photos resulted in coverage from Women's Wear Daily to Refinery29, so it's fair to say they had an impact.
Before coming to Dressbarn, Wagner worked at a range of retail heavy-hitters: Kenneth Cole, Nike, Cole Haan, Talbots, plus a stint at J.Crew with its original founders. "I've always been drawn to brands with a soul," she told us. "And Dressbarn is no different, but strangely fewer people know the richness of our story and how that story manifests itself with our associates and our customers." She's been working on the Dressbarn revamp for two years, and she says she's consistently blown away by the employees' enthusiasm for the company. "What I find extraordinarily special about Dressbarn associates is their passion for our brand — it's our secret weapon," she says.
The fall 2015 ad campaign might be attention-grabbing, but it's only one part of Dressbarn's strategy. Wagner wants the brand's pieces to feel relevant, and she knows the typical customer feels underserved by the market. It's no secret that few brands are curating pieces for middle-aged women, and Dressbarn has taken note, though the company says it's interested in a broad range of women. While there are no plans to target the plus-size market explicitly, the range of sizes, from 4 to 24, is one of the brand's greatest strengths.
In an effort to up its fashion credibility even more, Dressbarn recently launched the Dressbar initiative, which featured dress collaborations with designers Carmen Marc Valvo, Heidi Weisel, and Michael Smaldone from Adrianna Papell. Says Wagner, "Dresses have a powerful emotional connection for so many women, including myself."