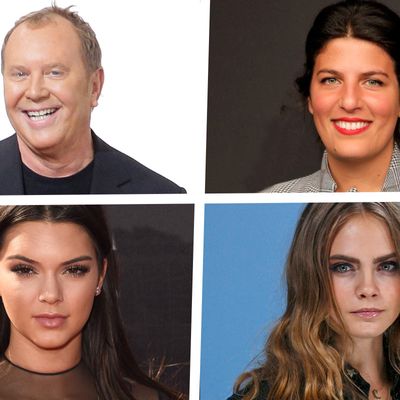 There's always been a lot of shared love between Instagram and the fashion industry, but with Eva Chen as the photo platform's new head of fashion partnerships, the romance is heating up. The company just rolled out a number of fashion-friendly updates, and it's also been collecting data on its fashion accounts to track who is growing fastest.
Instagram released its numbers to the Cut, and they sketch a rough picture of which U.S. designers and models have gotten the most attention in the past 12 months. Of the designer accounts with the most growth since last September's Fashion Week, the top four are all American classics: Michael Kors with over 5.4 million followers, Calvin Klein and Ralph Lauren with 2.2 million, and Tommy Hilfiger with 1.2 million. No. 5 might surprise you, though: It's prom-dress queen Sherri Hill, with 1.3 million.
For emerging designers, Instagram growth is key because it shows that their audiences are expanding. New celebrity favorite Self-Portrait topped the list at 101K followers, followed by Frame Denim with 71.6K, and red-carpet staple Edie Parker with 65.2K.
As for models, no one should be shocked to hear that "It" girls Kendall Jenner, Cara Delevingne, and Gigi Hadid came in first, second, and third place. Victoria's Secret Angel Candice Swanepoel just edged out Gigi Hadid, with 6 million to her 5.9.
To further appeal to the fashion-obsessed among its followers, Instagram has debuted a new feature in the top section of the Explore tab that will showcase curated content, behind-the-scenes photos, and other moments from NYFW — helping you get right to the good stuff. They've added a "shop now" button, and they point to the option to upload non-square photos and videos as another way they're trying to appeal to the fashion crowd. A new InstaShoots format also lets designers present their collections in a fresh way; Stella McCartney and Calvin Klein have been the first designers to try it out.
Read on for Instagram's complete data on the fashion accounts that have grown the most in the past year.
Major designers:
1. Michael Kors (@michaelkors)
2. Calvin Klein (@calvinklein)
3. Ralph Lauren (@ralphlauren)
4. Tommy Hilfiger (@tommyhilfiger)
5. Sherri Hill (@sherrihill)
Emerging designers:
1. Self-Portrait (@mrselfportrait)
2. Frame Denim (@frame_denim)
3. Edie Parker (@edie_parker)
4. Rosie Assoulin (@rosie_assoulin)
5. Tadashi Shoji (@tadashishoji)
6. Anna Sui (@officialannasui)
7. Marissa Webb (@marissawebbnyc)
8. Marco Marco (@marcosquared)
9. Diesel Black Gold (@dieselblackgold)
10. Jonathan Simkhai (@jonathansimkhai)
11. Rachel Comey (@rachel_comey)
12. Gabriela Cadena (@gabrielacadena)
13. Milly (@millybymichelle)
14. Lela Rose (@lelarose)
15. Suno (@suno)
16. Alison Lou (@alisonlou)
17. Custo Barcelona (@custobarcelona)
18. Bibhu Mohapatra (@bibhumohapatra)
19. Misha Nonoo (@mishanonoo)
20. Tanya Taylor (@tanyataylornyc)
Models:
1. Kendall Jenner (@kendalljenner)
2. Cara Delevingne (@caradelevingne)
3. Gigi Hadid (@gigihadid)
4. Candice Swanepoel (@angelcandices)
5. Miranda Kerr (@mirandakerr) 
6. Alessandra Ambrosio (@alessandraambrosio)
7. Karlie Kloss (@karliekloss)
8. Rosie Huntington-Whitely (@rosiehw)
9. Lily Aldridge (@lilyaldridge)
10. Hailey Baldwin (@haileybaldwin)
11. Izabel Goulart (@iza_goulart)
12. Barbara Palvin (@realbarbarapalvin)
13. Bella Hadid (@bellahadid)
14. Taylor Hill (@taylor_hill)
15. Martha Hunt (@marhunt)
16. Jourdan Dunn (@officialjdunn)
17. Bar Rafaeli (@barrafaeli)
18. Joan Smalls (@joansmalls)
19. Josephine Skriver (@josephineskriver)
20. Liu Wen (@liuwenlw)