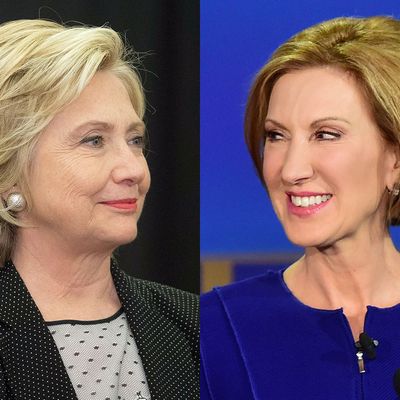 Hillary Clinton; Carly Fiorina.
Photo: Getty Images
Carly Fiorina, the only other declared female candidate in the rip-roaring 2016 race, knows how hard it is for women in politics to get even a base-level amount of respect from their male competitors and political commentators. Because sisters must look out for each other, Fiorina has pledged to treat Clinton with dignity, and to eschew any personal attacks.
In the newest issue of People, Fiorina explains that she feels "empathy with every woman who is working really hard and giving it all they've got," and that Clinton is one of those women. The former Hewlett-Packard CEO also says that Clinton is "smart" and "hardworking." It's nice to see this respect reaffirmed, especially since Fiorina took some flak when a 2008 interview in MORE magazine with similar sentiments resurfaced.
In the more recent piece, Fiorina promises to take the high road, telling People that she will "never make a personal comment about Hillary Clinton" and that any criticism of her rival will be "fact-based, based on her actions and track record." Hm, perhaps it's time for the GOP's male candidates to follow Fiorina's lead? What if the whole campaign were, in fact, based on facts?