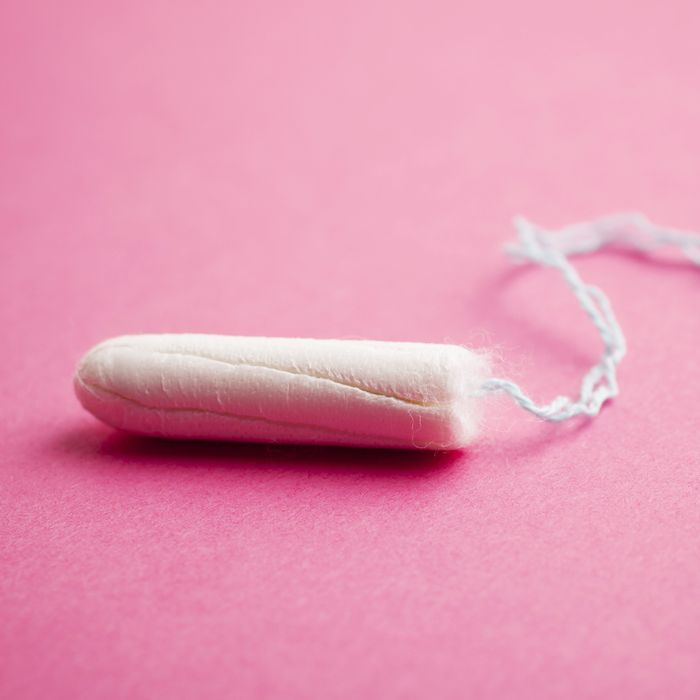 Tampon.
Photo: Gustaf Brundin/Getty Images
Tuesday morning, the girls' bathroom at the High School for Arts and Business in Corona, Queens, got an upgrade: a dispenser holding free tampons and pads. The dispenser's there for girls who forgot to pack a tampon, and those who can't afford feminine hygiene products. It's part of a larger initiative spearheaded by New York City councilmember Julissa Ferreras-Copeland, who made headlines earlier this summer when she proposed legislation that would make feminine hygiene products free in the bathrooms of all public junior high and high schools.
Ferreras-Copeland, who chairs the City Council's Committee on Finance, also wants to expand access to these products for women in prisons and homeless shelters, get the state sales tax repealed, and have them included in the Supplemental Nutrition Assistance Program (SNAP). But while she continues conversations with the various city agencies, she's starting with free Tampax in a high school in her local district.
Not having the necessary products can be disruptive to education, not to mention downright humiliating. "Some young girls have said, 'I know my mother is struggling to pay the bills, I don't feel comfortable asking her for pads also,'" she says. "So some of them would just rather stay home or find themselves using one pad for the whole day."
Public schools do offer emergency pads and tampons in the nurse's office, but in talking with girls at different schools, Ferreras-Copeland found that the policies vary widely. At one school, you'd have to tell your teacher, the nurse's secretary, then the nurse; at another school you have to sign in and explicitly state why you don't have the product. By contrast, there's an all-girls school where students can grab what they need from a cabinet, no questions asked. "If we were able to remove the taboo from condoms, and New York City gives out condoms for free, then we should be able to do this. Just like the schools order toilet paper, they should be ordering these supplies."
Innovation could help make free tampons a more feasible policy. A Columbus, Ohio, industrial design firm is developing a prototype dispenser for manufacturer Hospeco that has a timing mechanism so you can't just push the lever again and again and clean it out. The machine was designed with input from Free the Tampons founder Nancy Kramer. Kramer is the founder and chairman of marketing agency Resource/Ammirati and has offered free feminine products in her company's bathrooms since 1982 after she was pleasantly shocked to find them in ladies' rooms at Apple's corporate headquarters. She advised the firm on the design as a more cost-effective solution for organizations that want to make these products available but don't want to, say, leave out a basket. Kramer and fellow tampon-crusader Jennifer Weiss-Wolf connected Ferreras-Copeland's office to Hospeco*, which donated one of its traditional dispensers with a free coin mechanism to the Queens school.
Tampon advocacy is a small world (for now, at least). After the councilmember read one of Weiss-Wolf's op-eds on the topic, a mutual friend introduced them. Weiss-Wolf, whose day job is vice-president of development at the NYU School of Law's Brennan Center for Justice, said that when the two met in March they talked about possible reforms. "I thought it could be a big deal for the city to take this on as a policy agenda, both in terms of immediate impact and in terms of collecting data to show that this is a problem," Weiss-Wolf says. "I think that's sort of the hang-up for this country — there really isn't empirical data to show how often girls might miss school or what the adverse psychological effects could be, whereas that information is gathered in the developing world."
The councilmember held a roundtable in June with representatives from groups including the Women's Prison Association, Care for the Homeless, the Food Bank for New York, Planned Parenthood, and the YMCA to talk about how access to these products affects women across the city. There's a second meeting on Tuesday. The 850-student Queens school will serve as a pilot program and Ferreras-Copeland will hold group discussions there to learn more about girls' needs and improve the program as her office pushes to have it implemented citywide.
That effort involves no fewer than three different pieces of legislation, which are currently being drafted: one each for the Departments of Education, Corrections, and Homeless Services, plus resolutions asking the state to remove the sales tax and make these products eligible for SNAP and WIC benefits. While some detractors may think that not being able to afford feminine hygiene products is only an issue for women and girls in developing countries, Ferreras-Copeland says it's a problem here — we're just not talking about it. "There are many women that are struggling and many families that are struggling and when you have to decide between buying food or buying pads, the food comes first." Women in prison are given a small supply of generic pads and are told to buy more at the commissary, she says, but as we reported in June, some women can't afford them and, for those who can, the commissaries are often understocked.
Many people have been supportive of her proposed legislation (including other members of City Council), but others simply don't get it. "When we got some attention for this, we had a couple of hate emails like, 'Well, why don't you just buy them cars? Why don't you just buy them jewelry?' This is not a luxury," she says. "You can focus on your everyday life, and not whether your period has gone through your clothes yet. I want my young women and my women in general to be able to sit in any room next to a man and be able to focus on and think about the same things. That's it."
For her part, Kramer believes feminine hygiene products are an equality issue. "Men walk into their restroom and they have everything in it that they need to take care of their normal bodily functions — women don't," she says. "I honestly believe that if men got periods we wouldn't be having this discussion."
But we are having it, and as elected officials like Ferreras-Copeland work to create change, she hopes that free tampons and pads no longer make news. "Just in the way that we have an expectation that toilet paper is in restrooms, eventually, hopefully, the social norm is that these items will be there for women when they need them," Kramer says. "This is an easy issue."
*Corrections: This post has been corrected to show that the tampons and pads in the High School for Arts and Business were donated by Hospeco, not Procter & Gamble, as originally reported. The dispenser in the school is a traditional model, not the prototype with a timing mechanism.