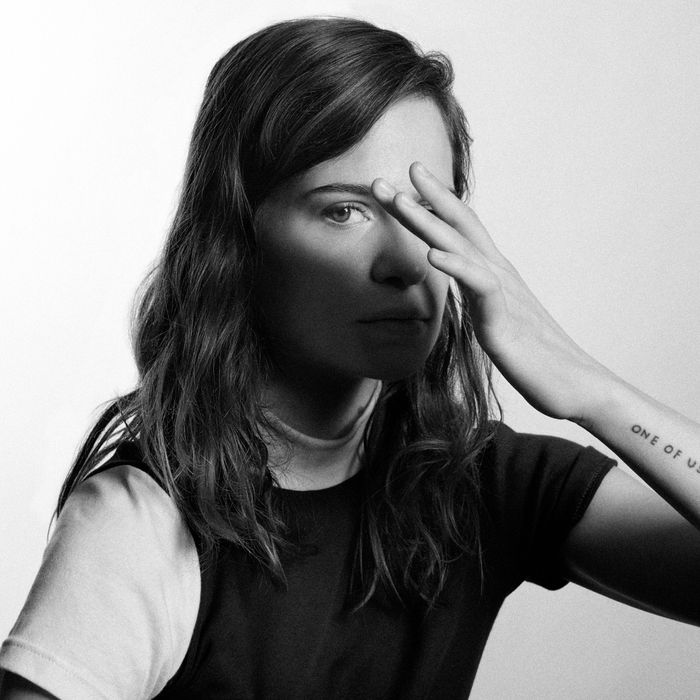 Standing five feet tall with strategic bedhead, Héloïse Letissier looks like an unassuming — if chic — French student. You'd never know that the media regularly compares her to Michael Jackson, that she won Best Female Artist of the Year in France's 2015 Victoires de La Musique, or that the fashion industry has embraced her as its new favorite gamine.
But performing onstage as Christine and the Queens, Letissier transforms. Her songs have the potential to supplant Robyn's monopoly over Brooklyn club playlists, while her choreography feels like St. Vincent's minus the frills. It's been quite a year for pop-culture-inspired discussions of gender and gender-bending, but as Christine, Letissier stands out. She's aligned with queer culture — her first single is a collaboration with Perfume Genius — and she identifies as pansexual, but in her androgynous performances she wants to act as a mirror for audiences, reflecting their own identities back on them — whatever they might be. Her version of quiet but insistent gender nonconformity is about to become a lot more visible: Her highly anticipated pop album, titled Christine and the Queens, is available to stream now, and this fall she's part of a sold-out U.S. tour with Marina and the Diamonds.
Twenty-seven years old and a theater geek at heart, Letissier's far from a diva, even if she does get front-row seats at Fashion Week. Earlier this summer, the morning after performing on late-night TV, the pop musician went relatively unnoticed on a New York City Chinatown street. She volunteered to steam the clothes she brought for the photo shoot and was ready in no time, without any makeup.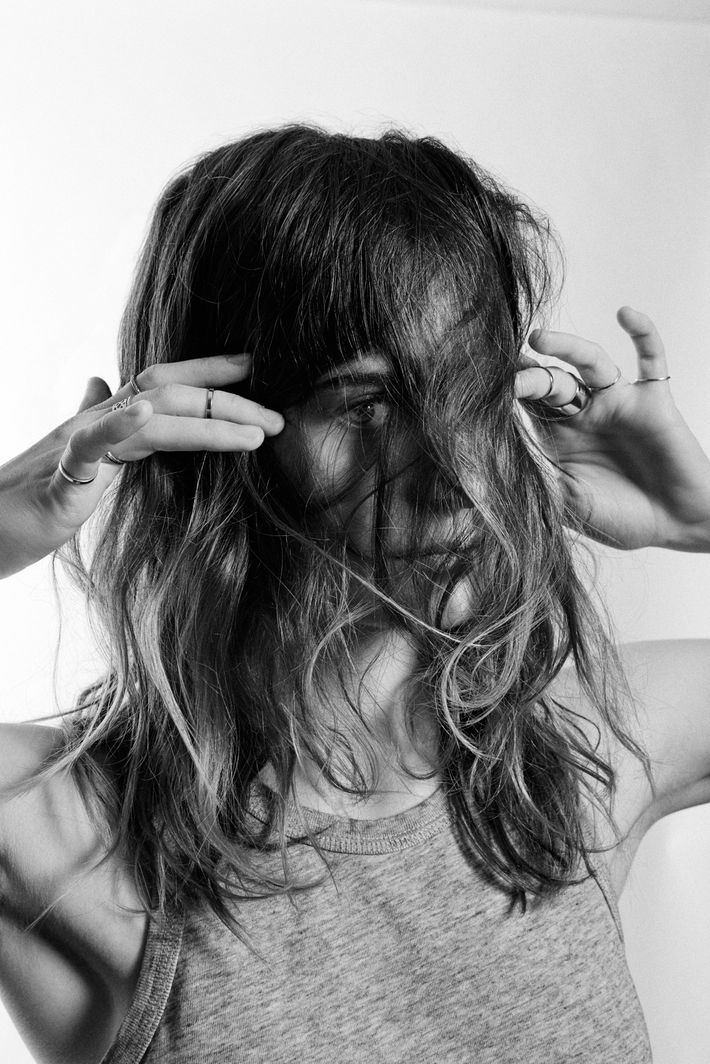 "The more I go with this character, the more I want to be masculine," Letissier says of her aesthetic. "I wish I could stop putting any makeup on, start having muscles. I'm interested in transformation. It started as Klaus Nomi, and now it's a bit more, I don't know, Bruce Springsteen: white T-shirts, muscles. Klaus Nomi isn't really androgynous but extraterrestrial. I'm even interested in freaks and monsters, and people who just became creatures at some point. I probably wouldn't go the whole way like they did, but I'm interested in this obsession with reinventing yourself and even choosing your own face. I wouldn't go into surgery because I'm afraid of it, but I'm fascinated."
Her musical mission is simple: to spread the courage to be yourself. Christine, she says, is "not like a David Bowie character I could kill and leave and move on to someone else." Instead, "it's more like putting a name on an energy that happens to me when I'm onstage." She goes on: "When you stop apologizing, you're the same, but the perspective is really different. I wanted to put a name to that process, and I was interested in other people having a name for their own process of being daring. It can be contagious in a way."
On set, Letissier morphed in front of the camera, miming her way through each pose. Theater is key to her act. She first became interested in the performing arts at the age of 4, when she begged her parents for ballet lessons — and wound up sticking with them for ten years. "Dancing has been a part of the project since the beginning. It goes along well with this feeling of being freer and letting go, expressing yourself in a way that doesn't put you in any box. When you move, you cannot be labeled or anything," she says.
But she didn't start singing until she moved to London and started hanging out with drag queens who inspired her to use her voice. Her London drag friends are not to be mistaken with her backup dancers — the "Queens" in her band name are an homage to the experience, but it's not a literal description of her act.
When Michael Jackson–inspired moves are essential to your dance routine and moonwalking through your trousers is a serious concern, it doesn't hurt to have Dior Homme on your side. "I got to have a masculine suit made for me, which is quite hard because I'm so tiny," Letissier says, explaining how she began working with designer Kris Van Assche. "Every time I try to have male clothes, they're too big, and they don't even last after a gig. I'm more interested in being comfortable in the clothes I'm wearing for dancing and giving to people."
Performing in New York City earlier this summer, Letissier revisited the vaudeville energy that was key to her early work. The first videos she played around with on YouTube have the eerie feel of Berlin cabaret silent film, complete with animal horns and white suits with shoulder pads. During the show, she continuously broke the fourth wall, voguing her way through the crowd, throwing glitter into the masses, calling out "Yaaaas" like she was undergoing a New York rite of passage. When she had a dance-off, it wasn't with a club kid but with a woman who looked like a mom visiting from out of town.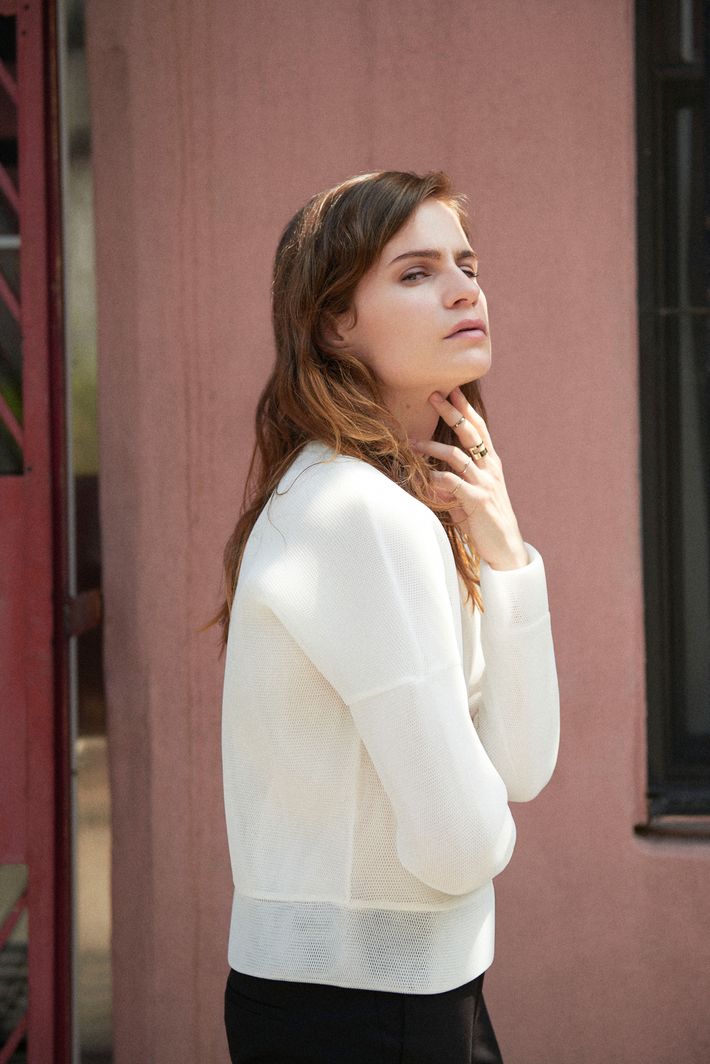 "It's a free zone. Everyone can be who they want to be. At some point you have to choose your name, your identity," she announced to the crowd, her backup dancers reminiscent of Beyoncé's Les Twins. "It's not really gendered in any way," Letissier says of the dance style used by her choreographer Marion Motin. "Sometimes it's even masculine or not really prissy, but that's what I like."
Despite her confident stage presence, Letissier has her self-doubts. She wears self-deprecation like protective armor, referring to herself as "just another French girl" several times in conversation. Haunted by the fear that Americans will mentally file her away with the Carla Brunis and Françoise Hardys of the world, she says she specifically positioned her album as pop, explaining, "I wanted the album to be immediately understandable rather than playing on the exoticism of being French."
In June, after a Late Night With Seth Meyers performance with some hip-hop flair, she vocalized her resistance to letting others hear her flow: "Sometimes that makes French people cringey, because they hate it when a girl tries to rap." But although she might have been hesitant to take on the genre at first, a catchy Kanye West mash-up sampling "Heartless" appears on the new record. It's a reminder that it's in her fans' best interest if Letissier keeps questioning her own doubts and pushing her own boundaries.