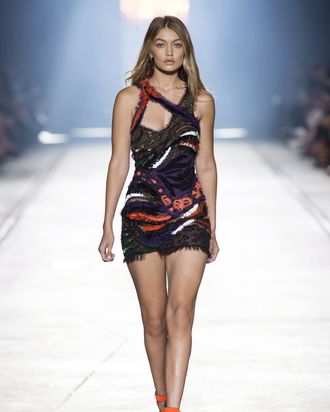 Gigi Hadid walking in Versace spring 2016.
Photo: Alessandro Lucioni/Imaxtree
Many of us would kill to look just like Gigi Hadid, but the model still has body-shamers. (There were even some in the audience at the last Milan Fashion Week.) And just last month, she opened up about how modeling agencies had asked her to lose weight. This morning, Hadid took to Instagram — as is only proper for the woman W called "the world's most connected supermodel" — where she posted a heartfelt statement about how "judgment on social media" regarding her body has affected her. "I'm human, and I'm not going to lie, I did let the negativity get to me a little," she wrote. 
Still, she acknowledged, "I represent a body image that wasn't accepted in high fashion before, and I'm lucky to be supported by the designers, stylists, and editors that I am." The online negativity certainly hasn't stopped her from walking in Versace, Jeremy Scott, and other major shows this season. Read Hadid's full statement below.