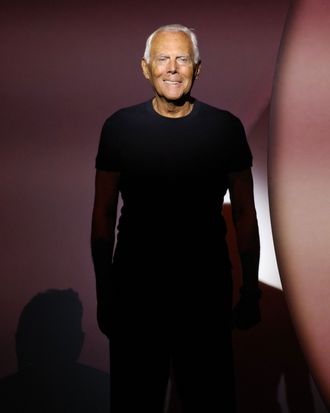 Giorgio Armani.
Photo: Antonio de Moraes Barros Filho/WireImage
The 40th anniversary celebrations continue for Giorgio Armani; following on the heels of May's big celebration and his fashion show on Monday, the 81-year-old designer has just released his autobiography. The 576-page tome, out from Rizzoli, includes a pretty adorable cover photo of the designer as a baby. Inside are a wealth of images by fashion photographers including Craig McDean, Deborah Turbeville, Herb Ritts, and Peter Lindbergh.
Meanwhile, the designer shows no signs of retiring, telling Bloomberg that "While I am alive, there will be independence. Soon after, perhaps I will have prepared the ground for a type of independence that is more measured, more controlled." For Armani, whose company has remained independent, the definition of freedom is simple: "Being able to choose the light that you like in an office as much as designing an unruly or highly elegant collection," he says, "this is independence." Think about that the next time you turn on your cubicle desk lamp.