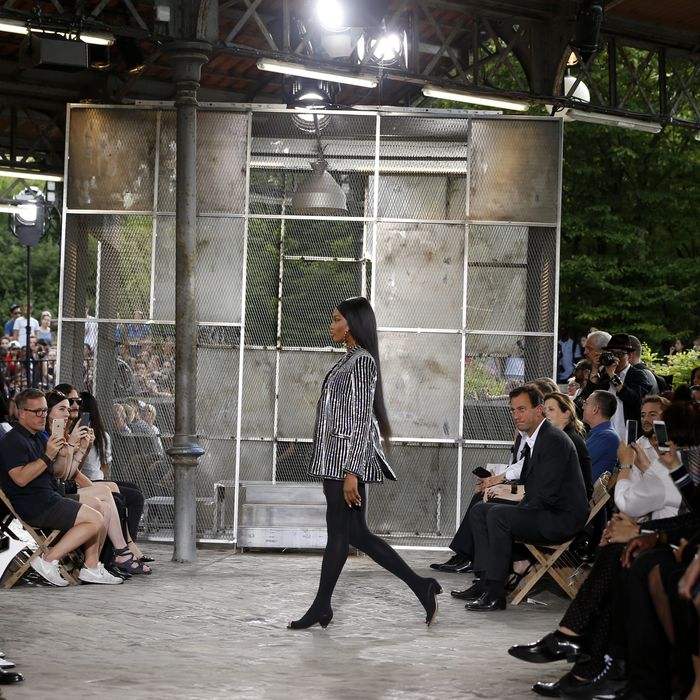 Riccardo Tisci wants you to join his Givenchy fam. Women's Wear Daily reports that the designer is opening up his Givenchy show in New York next week to 1,200 regular Joes. Tisci is working closely with the city on distributing the tickets, 280 of which will go to local fashion students and teachers. While the venue hasn't been announced yet — presumably it's somewhere huge enough to accommodate an arena-size crowd — we do know that perennial Tisci collaborator Marina Abramovic will be involved. It's not Tisci's first flirtation with the concept — during Paris men's week a few months ago, the brand tried announcing its location early on social media to ensure an eager crowd would gather at the venue. CEO Philippe Fortunato called it "a form of rehearsal" for New York Fashion Week.
While this seems likely to be a one-off, buzz-generating event, it raises interesting questions about how fashion can open itself up to the public. Whether it's Moschino, Alexander Wang, or Hood by Air, certain Fashion Week shows are always encircled by a rabid following of fans, who, frankly, seem infinitely more excited to be there than most of the industry crowd. What would it mean to harness that enthusiasm? If Tisci's experiment is a success, it could result in a more porous boundary between the still-standoffish fashion industry and the public.
That said, it wouldn't be fashion if there weren't some separation between the groups. At next Friday's show, the civilian guests will have their own separate entrance and seating area.