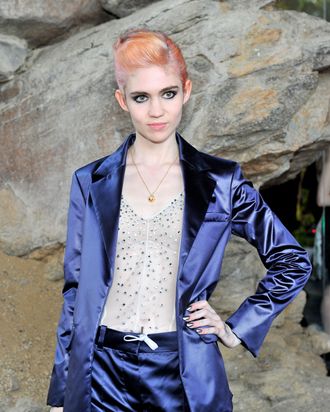 Grimes.
Photo: Donato Sardella/Getty Images for Louis Vuitton
Lately, we've been treated to a spate of exciting profiles on Grimes, the Montreal-bred punk turned pop star who many of us love to love. Claire Boucher, the woman behind the moniker, both endears and enlightens often in her interviews, but none better than when she explains why she makes the musical decisions she makes. In the latest New Yorker, Boucher talks to Kelefa Sanneh about everything from Mariah Carey to life as a punk youth in Canada to why she "declines offers to collaborate with established producers and songwriters":
"I can't use an outside engineer," she told the New Yorker. "Because, if I use an engineer, then people start being, like, 'Oh! That guy just did it all.'" She continues, "It's a mostly male perspective — you're mostly hearing male voices run through female performers. I think some really good art comes of it, but it's just, like, half the population is not really being heard."
While it's well-known that Boucher is the only woman behind the production and writing of her songs, her reason for wanting to do so shows how stunted the music industry still is, and the better it is for having Boucher be a part of it.