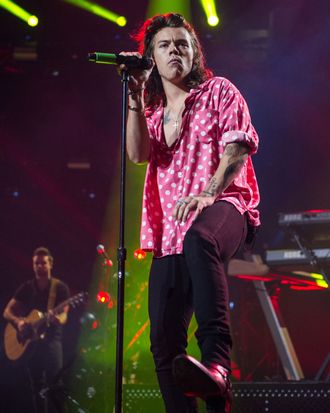 Harry Styles.
Photo: Brian Rasic/WireImage
Harry Styles — a head of hair with a beautiful body beneath it — was performing at a concert with the three other lads in One Direction on Tuesday when he admitted that he was a little distracted. Was it a broken heart, a forgotten appliance left on, musings on the history of mankind that had Styles unable to focus? NO! It was his sister, who was on a date at the One Direction concert.
Cute! A Twitter account called Updates on Our Boys (whose boys? our boys) tweeted out a video of the moment where Styles implores his sister Gemma and her date to "behave."
Oh and nice shirt, Harry.