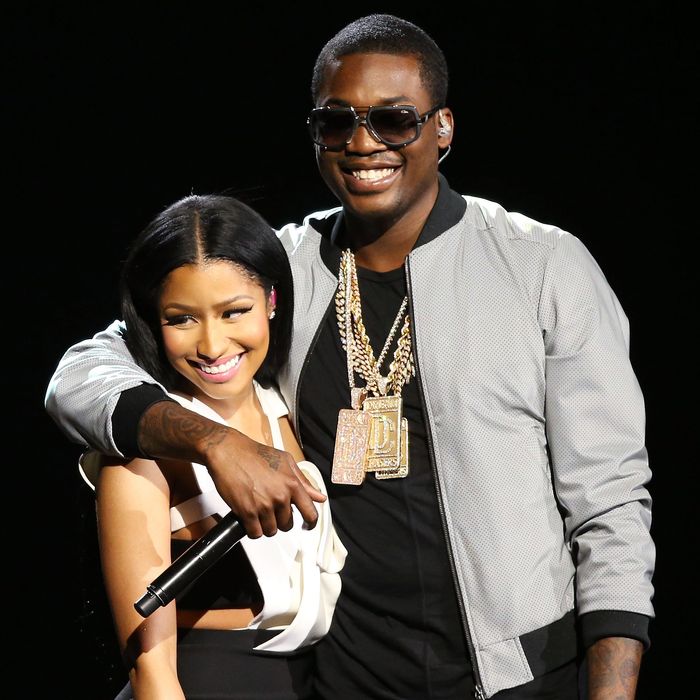 Nicki Minaj and Meek Mill.
Photo: Michael Tran/Getty Images
Say what you want about rapper Meek Mill (yes, Drake won the beef; no, Meek couldn't let it go), but he gets the distinct honor of dating Nicki Minaj (thirst, Drake, thirst) and as the lesser member of this union, he also appears to understand exactly why he is so lucky.
Just to incite some extreme jealousy in us all, the two sat for a soul crushingly adorable interview in this month's GQ that basically turned into a sexually charged moderated relationship chat. In it, Meek provides the platonic ideal of compliments that a boyfriend, girlfriend, husband, wife, fuckbuddy, life partner, etc. should always offer when asked "What'd you like about me?" He said to Nicki:
That you was a hustler. That you were doing your thing. A lot of people coming up. People don't really have a girlfriend that's doing more than them or the same thing. I like girls that hustle. She a boss. She's pretty as fuck. Bad as shit. Ambitious. What else do you want?
Damn, Meek. Suddenly warm fuzzies like "Your Tinder pic was super hot" just don't cut it anymore.