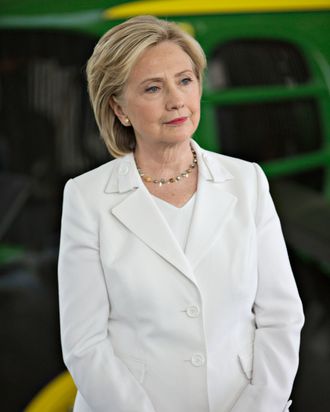 Photo: Daniel Acker/Bloomberg Finance LP/Getty Images
After the State Department made public a new batch of declassified Hillary Clinton emails on Monday night, the insights regarding Clinton's time as secretary of State keep coming in. In an email from the presidential hopeful's longtime aide Philippe Reines, it was revealed that even a woman with that much power can experience "ogrish" sexism in the workplace.
He wrote a congratulatory note to Clinton, copying staffers Huma Abedin and Jake Sullivan, saying, "I for one loved that you finally called out the ogrish males on your staff who roll their eyes at women's issues and events."
But, it seems, the ogres didn't quite get the message, even when it came from the secretary of State. Reines continued:
But fyi I'm pretty sure I saw [REDACTED] roll their eyes at the very moment that you were obviously referring to them.

They just don't get it.
We'd like to suggest that [REDACTED] wake up, unroll their eyes, and smell the "women's issues." Their former boss isn't going to tolerate any ogres in the White House if she wins the election.