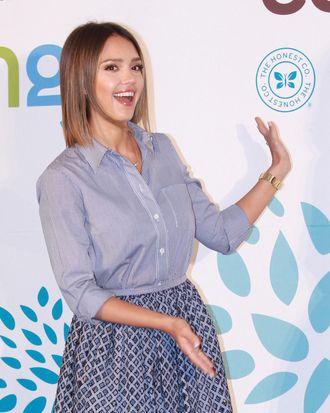 Jessica Alba.
Photo: ilgan Sports/Getty Images
Last month, natural-products tycoon Jessica Alba got lots of complaints about her Honest Company's sunscreen failing to protect consumers from the sun, and now the company has been hit with a class-action lawsuit seeking refunds for people who purchased it and other items from the line. The claim also accuses Honest Company of selling products described as "natural" but which contain synthetic ingredients, according to documents obtained by the Wrap, People, and others.
The suit, filed by plaintiff Jonathan D. Rubin, seeks refunds of profits totaling at least $5 million for anyone who bought the Honest Company's sunscreen — which he purchased, and said was "ineffective in preventing unhealthy exposure to harmful UV rays." Honest responded to the sunscreen criticisms earlier this summer, saying that its SPF 30 product was independently tested and met the Food and Drug Administration's requirements to be marketed as water-resistant. Alba wrote in a blog post that they would contact customers who complained and "do what it takes to make it right," but it's not clear whether she meant refunds or replacement products.
Rubin is also seeking damages regarding Honest Hand Soap, Honest Dish Soap, Honest Diapers, and Honest Multi-Surface Cleaner, alleging that they are "deceptively and misleadingly" marketed. The products are described as "natural" on Honest.com and in advertisements, but contain ingredients like synthetic preservatives Methylisothiazolinone and Phenoxyethanol, and synthetic surfactant Cocamidopropyl Betaine.
It's a tricky area. "Natural" has never been defined nor regulated by the FDA for cosmetics (or food, for that matter). It's not as if the Honest Company's products were labeled as "USDA Organic" and were later found to contain no-nos that weren't listed in the ingredients. While it's heartening to see people calling out companies for sneakiness, this one isn't going to solve the bigger problems with the word natural. But the sunscreen? Raise hell, Jonathan D. Rubin.
Update:
Alba and the Honest Company issued the following statement to The Hollywood Reporter's "Pret-a-Reporter" on Friday.
Seven years ago, when I was pregnant with my first daughter, I was frustrated by the lack of healthy and safe product options for me and my new family. In fact, prior to launching The Honest Company, I began lobbying Congress to require that ingredients used in everyday products are tested for safety prior to entry into the marketplace.

I started The Honest Company to develop safe and effective products not just for my children, but for families everywhere. I am very proud that we have built this company into an industry leader focused on using natural ingredients and developing products that people love.

We believe that consumers deserve to know what's in their products — whether it's diapers for their children, cleaning products for their families or beauty products for themselves. Our formulations are made with integrity and strict standards of safety, and we label each ingredient that goes into every product - not because we have to, but because it's the right thing to do.

The allegations against us are baseless and without merit. We strongly stand behind our products and the responsibility we have to our consumers. We are steadfast in our commitment to transparency and openness.

I know my children, Honor and Haven, are growing up in a safer home because of our products.