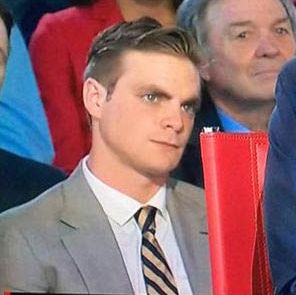 Perhaps last night you were struck by the sudden desire to watch sweaty people in well-ironed clothes talk endlessly in circles, so you decided to switch on the GOP presidential debate. You may have been surprised, then, to find that the real star of the show wasn't Donald Trump or Jeb Bush, but, actually, the guy with the great cheekbones sitting behind moderator Jake Tapper.
Us Weekly reports the mystery man is Gregory Caruso, a movie director who is the son of wealthy real-estate magnate and GOP megadonor Rick Caruso.
He kind of looks like if the guy from American Beauty never once spoke to anyone worth less than a million dollars. Serial-killer vibes aside, we'll take anything to distract us from the car crash that is the upcoming presidential election.