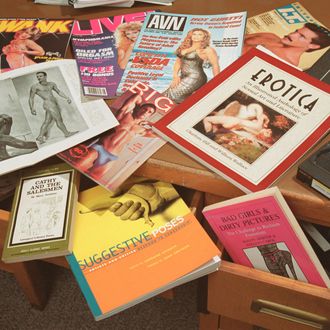 Photo: David Cooper/Toronto Star via Getty Images
Chances are you've heard tales of the supposed dangers of porn addiction — just last month, Josh Duggar invoked his own "secret addiction" to pornography in a public apology after his name was leaked in the Ashley Madison hack. Whether the eldest Duggar child's claim was sincere, as some have questioned, is one matter. But the question of whether it is actually possible to become "addicted" to porn is another, and it's something scientists who study human sexuality haven't been able to agree on. 
Now some new research is helping to shed some more light on the subject, finding that feeling like you're addicted to porn is what causes psychological distress, regardless of how much porn is actually being watched. In the study, published online last week in the journal Psychology of Addictive Behaviors, Joshua B. Grubbs of Case Western Reserve University surveyed about 2,000 adults about their pornography use, their levels of anxiety and depression, and whether they perceived their use of pornography to be an addictive behavior. His results showed that people who believed they were addicted to porn also experienced more psychological distress — depression, anxiety, anger — than those who didn't feel as if they were addicted to porn.
Again, it didn't matter how much pornography the study participants actually watched; what mattered was how they felt about their ability to control how often they watched it. "Collectively, these findings suggest that perceived addiction to Internet pornography, but not pornography use itself, is uniquely related to the experience of psychological distress," the researchers write.
Earlier this year, Grubbs published another interesting study concerning perceived porn addiction, finding that the people most likely to believe that they had lost control over how much porn they watched were more likely to hold religious or moral beliefs against having sex. Taken together, the studies suggest that it's not something inherent to the XXX-rated content itself that's the problem; it's the viewers' own attitudes toward it, and their perceived ability to control how much of it they watch, that seems to matter most. In a way, these studies are in line with a relatively new way of thinking about psychological distress: Maybe it isn't necessarily one thing or another that predicts stress, according to research by Stanford psychologist Kelly McGonigal. Instead, it could be your attitude toward the thing that counts the most.