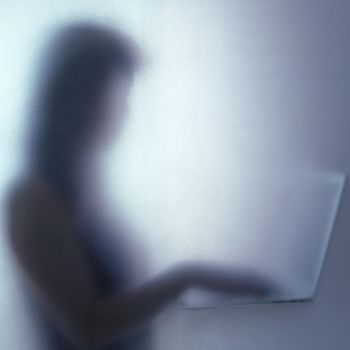 Photo: Jasper James/Getty Images
Recruited by literary agents and book editors to turn celebrity confessions into juicy beach reads and war stories into best-selling thrillers, they're the men and women behind perhaps half of America's best-selling nonfiction. (Last year, one agent estimated the figure to be at least 60 percent.) Ghostwriting isn't a new phenomenon — John F. Kennedy won a Pulitzer for Profiles in Courage, a book his speechwriter acknowledged ghosting. But while the rise of the celebrity memoir has, to some extent, softened the stigma associated with "collaboration," the demands of marketing, personal branding, and political posturing still require many ghosts — and their methods — to stay in the shadows. Intimacy is the currency of memoir, and to preserve that feeling of direct access, the ghost's job is, quite literally, to disappear.
Even it's the celebrity who keeps disappearing. Merle Ginsberg co-authored Paris Hilton's 2004 best-seller Confessions of an Heiress, and she isn't sure whether her "author" ever read the final edit. "Paris gave me such free rein, it's crazy," Ginsberg recalls. "I said to my agent, 'I need to get more from Paris.' And he said, 'Oh girl, just think of it as your first novel.'" To make sure Hilton's book hit stores before her spotlight faded, Ginsberg wrote the entire book in five weeks, while Hilton was on location filming The Simple Life. "It wasn't that easy getting her attention," Ginsberg admits. "We had a number of meetings and she was nothing but pleasant, but talking isn't her thing. Paris is all about the visual. She loved doing the pictures." ("Some of the books are more merchandise than literature," Daniel Paisner, whose 50-plus co-bylines may make him the most prolific living ghost, once said to NPR.) Ginsberg likens the job to "conjuring."
Like everything connected to mid-'00s Paris Hilton, Ginsberg's experience was something of an extreme. A more normal ghost-author relationship involves hours of interviews and extensive communication. Frequent memoir-collaborator John David Mann — whose name has appeared on book covers with politicos, businessmen, and a Navy SEAL — likens ghosting to acting: "I think it might be something like what it's like to be an actor, playing someone's life story on the screen. This may sound a little wonky, but you've got to find a place inside yourself that really connects with that person," he told me. "If you're going to do a good job at this, you have to get into this person and look at the world through their eyes." Now that he has an established track record as a ghost, Mann can demand shared bylines and shares of rights and royalties. "There's a whole vocabulary around the bylines," he says. His books are usually credited as "'by' the guy the book is about, 'with John David Mann.' That's code for 'this guy lived the life, and John wrote the book.'"
But far more common than Mann's and Ginsberg's experiences are those of ghosts whose names never appear in public; they walk away with a one-time paycheck and minimal bragging rights. "He gave me a nice shout-out in the acknowledgments," said a ghost whose most recent project was an actor's collection of essays. "It's sort of the secret handshake of the industry, thanking 'my collaborator' or 'my partner.'"
That "secret handshake" was how I sleuthed my way to the ghostwriter behind my favorite tell-all. Flipping to the "acknowledgments" page of the book in question, I systematically plugged each name into Google until a writer's name popped up. After reviewing the Facebook pages of more than a dozen entertainment lawyers, hairdressers, stylists, and talent managers, I got a hit — a little-known writer with a (public) résumé of pop-culture writing and celebrity profiles. Some celebrity books contain so many acknowledgments that you wonder whether the whole thing was a game of exquisite corpse. Kylie and Kendall Jenner's novel Indra: City of Rebels required so much collaboration that, in addition to thanking ghostwriter Maya Sloan, the sisters granted their manager Elizabeth Killmond-Roman her own acknowledgments page, so she could thank the people who collaborated with her.
As a writer, the prospect of giving up your byline to become a reality star's puppet may seem, well, depressing. But few writers support themselves exclusively with their own bylined material. "We're all slashers," said one ghost. "Writer-slash-editor, novelist-slash-Pilates-instructor, teacher-slash-freelance-journalist. As far as jobs that support your writing go, this one is pretty good."
But, I asked, isn't a ghostwritten memoir basically just a biography? "No, because biographers get royalties," a writer who recently turned down a ghostwriting gig laughed. Or as the more diplomatic John David Mann put it, "Biographies are about looking at that person from the outside," whereas "memoir is really trying to give the reader this person's experience." The more I thought about it, the notion that a famous person would ever allow a stranger to write a biography seemed almost bizarrely altruistic. Given the choice, who wouldn't want to control the narrative and profit from her own popularity? Even Madonna — long considered the last holdout in her refusal to write her own memoir — admitted last year that she'll probably write a memoir "one day."
"I'd reckon 95 percent of memoirs by public figures involve a ghostwriter to some degree," a senior editor at a major publishing house told me, under the promise of anonymity. (Even talking about ghosts seems to render literati invisible.) His current roster includes four ghostwritten memoirs, mostly of political figures. Here's how he described the process: "The collaborator may conduct extensive interviews with the 'author,' then draft chapters and show them to the author. Or the author may write some rudimentary material, and the collaborator shapes it into something resembling a book." Yes, he really used scare quotes the first time he said "author."
I interviewed one ghostwriter who never met or spoke privately with his subject until after the project was over. With several books with his own name under his belt, he was recruited to write a Hollywood starlet's autobiographical novel. "Her team sent over the book proposal, so I had a skeleton to work with — no offense to her figure at the time — but the process was very detached. We had no more than two phone calls, both conference calls with her people." After collecting a one-time payday in the low-five-figure range, the writer went on to ghost for another celebrity. The starlet went on to a book tour, telling talk-show hosts about her writing process.
A few months later, the ghost ran into the starlet at a West Hollywood coffee shop. "And I was like, I've got to talk to her. So I go up and I give her my name. No recognition. And then I say, 'I worked on your book?' And then she was like, 'Oh my God! Hello!' And then we just stood there, because we were in public and it was like we'd had a clandestine sexual encounter — you can't say anything in case the wife is nearby." They parted ways and never spoke again.
This week, the Cut reflects on self-reflection with a series of stories devoted to the art of memoir. Now, we end the week with a nod to the men and women behind those high-profile memoirs that rule the best-seller list — ghostwriters.
The problem with writing an article about ghostwriters is that nobody will go on the record. People whose job descriptions contain a reference to invisibility don't do press — which is funny, because most of them are members of the press. "Whoever wrote that book would be tremendously flattered by such a nice assessment," the ghostwriter behind my favorite Hollywood tell-all said, "but I imagine he or she signed an iron-clad nondisclosure agreement."