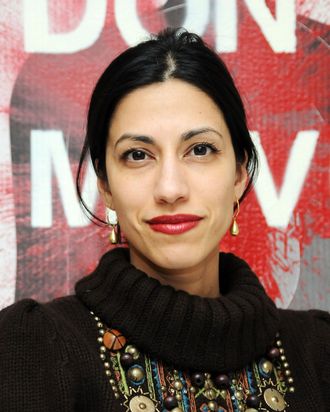 Photo: Desiree Navarro/Getty Images
Few women can say that Oscar de la Renta personally customized and designed their wedding dress — the late designer was the stuff of legends. Huma Abedin is one of the powerful women he had a penchant for dressing, and the gown he designed for her 2010 wedding was so perfect, it made her scream. She looks back on the experience in Oscar de la Renta: His Legendary World of Style, André Leon Talley's book out this month from Rizzoli. It comes on the heels of this year's commemorative exhibition, also curated by Talley. Read below for an excerpt. 
When I think of Oscar de la Renta, I think of beauty, love, warmth, joy, elegance, and timelessness. With all those words in mind, how could a bride not imagine walking down the aisle in an Oscar de la Renta wedding dress? And as someone who had the privilege of knowing him, it was even more of a fantasy come true.
I was so honored when Oscar agreed to make a gown for my summer wedding in New York in 2010. Like many girls growing up, the images of my own wedding day always included a beautiful dress. I wanted to acknowledge my South Asian heritage and wear my grandmother's gold choker that my mother and sisters had all worn before me. But that didn't mean I knew what I wanted to wear. Somehow Oscar did.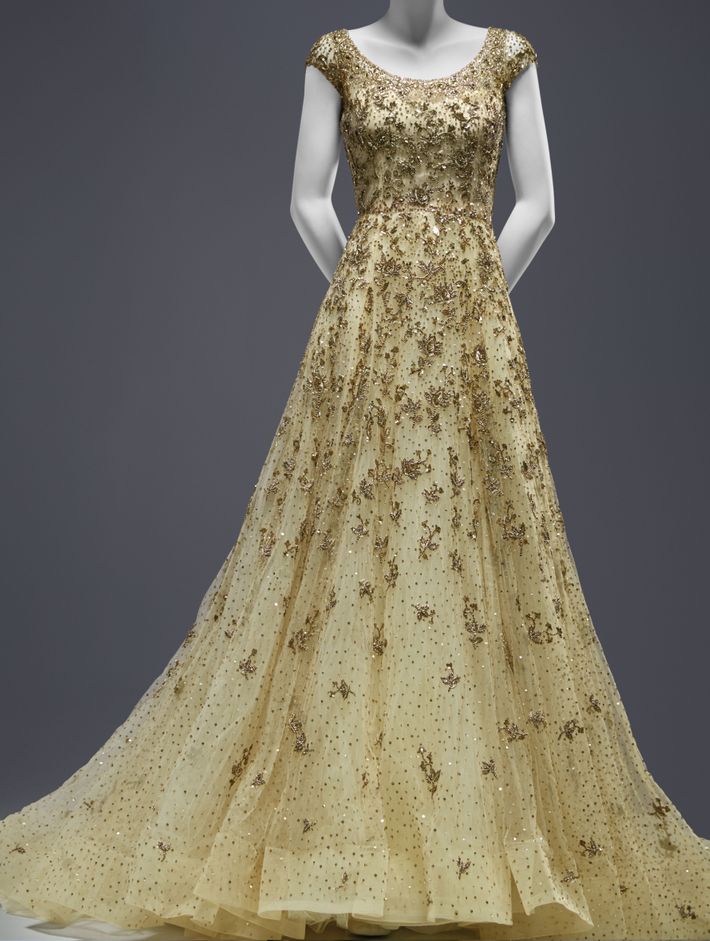 At our first meeting to talk about the design, we sat in Oscar's elegant office, surrounded by photos of powerful women in one-of-a-kind Oscar de la Renta creations, and sifted through images of what felt like a thousand "perfect" dresses. I left the experience overwhelmed by the possibilities. Oscar then produced two sketches. The first was a fitted strapless column dress — a dress he knew someone as conservative as I would never wear, but he said with his trademark sly smile that he couldn't be blamed for trying a sexy option on a young bride. He also sketched a cap-sleeved gown that was fitted on top and flared out toward the bottom. Instantly we knew this was "the one." Oscar's idea of detailed embroidery on the bodice and on the sheer cap sleeve was the perfect mix of East and West. I showed him the choker and an embroidery design inspired by it. That was it. I never saw the fabric, the color, the beading, or the embroidery thread. For now, my dress only lived in Oscar's limitless imagination. In the weeks before the wedding, I had to admit I had no idea what my dress was going to look like. But I was not worried.
When I stepped into my gown for the first time at the fitting, I actually screamed. I couldn't have imagined anything more spectacular. Oscar and his wonderful head tailor, Raffaele Ilardo, stepped back into the room where I was standing with my sister to check on us. I was speechless with emotion. He looked at me from head to toe, as he often did when a well-dressed woman walked into a room, and simply said, "You look beautiful, my sweetheart." He came over and gave me a kiss. It is a moment I will never forget. Shortly thereafter, I was photographed wearing my dress in Central Park for an article in Vogue. I know it was the designer's creation truly being recognized, but I could not have been made to feel more special by Anna Wintour and Oscar de la Renta. It was like being in a dream.
This gown is simply the most exquisite piece of art I have worn in my life. It looks as though it would be heavy with all the embroidery, but it is as light as a feather. I remember the swishing sound when I twirled on the dance floor. The way the back of the dress looked like ripples in the sea. The way I felt like I was floating when I walked down the aisle. Mostly, I remember the way I felt wearing that dress. Feminine. Powerful. Confident. In love. I was an Oscar de la Renta bride.