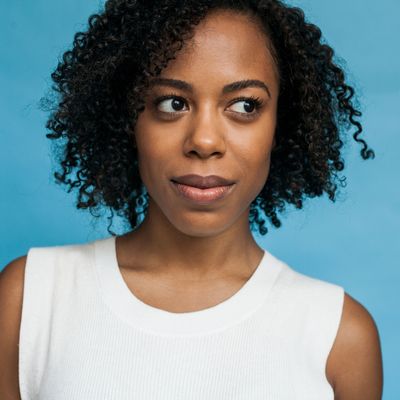 It's me!
Photo: Andre D. Wagner
Vanities is a new feature in which the Cut's editors obsessively detail their beauty routines, down to very last drop. First up: The Cut's associate beauty editor, Ashley Weatherford, whose poreless, glowing skin has garnered her the office nickname "Mother of Light." Here's Ashley on her current skin-care routine and what she's currently testing out. 
I once dedicated a solid 45 minutes each morning to my beauty routine, and that was a problem. So when I finally cut my embarrassingly elaborate skin-care routine down to ten minutes this summer, it was a point of pride. My goal: perfect, luminous skin.
I begin my streamlined morning lineup with a few pumps of Phace's Detoxifying Cleanser, a non-foaming cleanser specifically enhanced with a pH slightly lower than our skin's natural pH. I learned about Phace when the brand's Harvard-trained founder paid the Cut a visit last year. There are a few very nerdy reasons why you want a cleaner with a low pH. At the top of the list: hydrated skin, and fewer blemishes and wrinkles down the road. It's a bit of a mystery why the low pH helps protect skin better, but one plausible theory is since skin that stays in the low-pH range is more acidic, it naturally fights acne-causing bacteria while preserving the face's native moisture barrier.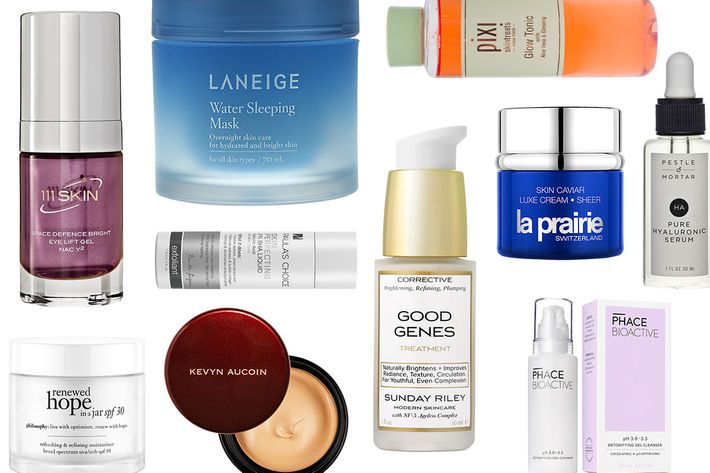 After I cleanse, I rub on the most aptly named product in existence: Good Genes. The serum by Sunday Riley is fueled by lactic acid and makes my skin instantly glow. It has a pungent, spicy smell that turns off many, but surprisingly, not me. Maybe all you need to know is that Helen Mirren is a fan.
I usually let Good Genes marinate on my skin for a few minutes. Then, if I'm feeling undermoisturized, I give a few blots of Pestle and Mortar's Hyaluronic Acid Serum around my chin and hairline, where I sometimes become uncharacteristically dry (my skin is generally oily). Pestle and Mortar is the brainchild of an Irish biochemist, her skin-care guru sister, and her photographer husband, who wanted to help people look Photoshopped IRL. So far, my experience looks promising.
For my eyes, I've most recently turned to a gnarly skin-care brand that employs technology used on astronauts in outer space. Skin Space Defence Bright Eye Lift Gel is a clear solution that loses its semi-solid shape as soon as it touches my skin. It melts and becomes oily, like cold bacon fat thrown in a frying pan. The story behind the brand goes something like this: A British plastic surgeon teamed up with space scientists to create a healing salve for post-op patients in his practice. The space scientists tapped into their knowledge of skin-care ingredients astronauts use when exposed to the age-accelerating elements of space, and before long, a beauty brand was born. I can't say for sure why I use this product (my eyes don't need a "lift" just yet), but if I'm being honest, there's an amusement factor when I think about a bunch of rocket scientists huddled together to launch a cosmetic product.
Right after I tend to my eyes, I slap on Philosophy's Renewed Hope in a Jar SPF 30 mixed with a dab of every makeup artist's (and Kardashian's) holy-grail product, Kevyn Aucoin's Sensual Skin Enhancer, which completes my morning ritual.
Nighttime is a much more complicated story. First, I remove my makeup with some sort of wipe. Recently, that's been makeup artist Lauren Napier's individually packaged and guaranteed-to-never-dry-out wipes. Lauren's worked with the likes of Zoë Kravitz, Anne Hathaway, and Lady Gaga, so you could say she knows a thing or several about cutting through serious face paint. She's also worked with Drake, even though everyone knows that Aubrey is naturally beautiful. 
I typically wash my face again with Phace. As soon as I pat dry, I swipe Pixi's Glow Tonic over my face with a cotton round. Glow Tonic is new to the States, but in its native England, it's a bit of a rock star. The glycolic acid in the formula gently smooths over rough spots and the occasional dark mark over time. It's basically the budget version of Biologique Recherche's P-50. A delightfully named Skin Perfecting Liquid from Paula's Choice completes my acid application for the night. In there, you can find a watery concentration of 2 percent salicylic acid, which ensures that my pores stay clear and my blemishes remain buried.
It's a waiting game of 30 minutes before I move to the next step. Though, truthfully, some nights, this is where the train ends. But if I'm being diligent, I follow the salicylic acid with Paula's Choice Resist Anti-Aging 1% Retinol Booster. The 30-minute waiting period nullifies any irritation that might arise when using an acid and a retinol at the same time. It's a method I've tested through trial and error because it will sting a bit if I don't wait. I don't use retinols all the time, but I try to sometimes, if only because it's one of the best products a person can use to avoid wrinkles later in life.
Immediately after the retinol, I dab on 111 Skin's Celestial Black Diamond Contour Gel. Slightly thicker than the eye gel I use in the morning, it's supposed to help stimulate the production of collagen, which, in return, will help diminish the appearance of dark circles. I've only just started to use the gel, but here's to wishful thinking.
Finally, I finish off the night with La Prairie's Skin Caviar Luxe Cream Sheer. Yes, it's expensive, and yes, if you agree with Kathleen, the Cut's senior beauty editor, it might smell like granny cream, but I love that it makes my skin feel really soft and plump in the morning. When I'm not being completely overindulgent, I'll use Laneige's Water Sleeping Mask instead.
And speaking of masks, lately Dr. Jart's Deep Hydration sheet mask is what I like every now and then, when my skin feels especially parched. I actually swear by sheet masks for hydration. Unlike traditional masks, the cloth in a sheet mask traps moisture so skin feels especially supple.
But will I keep this routine going throughout the fall? Who knows? Maybe I'll Kondo more to add some simplicity to my life.