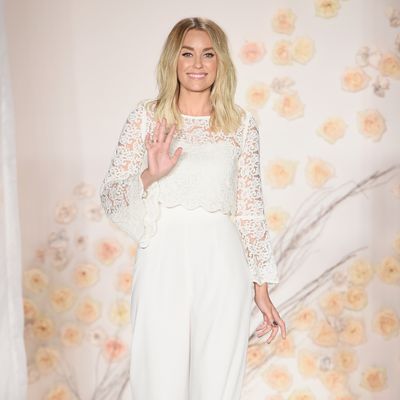 Lauren Conrad.
Photo: Slaven Vlasic/2015 Getty Images
It is heartbreaking to watch Lauren Conrad cry. We know this because of all those seasons of Laguna Beach and The Hills where her pretty blue eyes filled with tears and then those tears spilled, prettily ruining her mascara.
Thankfully, Lauren Conrad, who recently told Glamour that she's "pretty basic … but a pretty happy person," has created a world in which she never has to pretty-cry for us again. Last night she invited the media to pop in on her happy place for the occasion of her first official runway show for her new Kohl's collection, LC Lauren Conrad Runway Collection (not to be confused with her regular Kohl's LC Lauren Conrad line or the one that was inspired by Cinderella).
In Lauren Conrad's world, the scent of sparkling rosé hits you as soon as you walk in the door — almost as if it is being pumped into the air vents so you'll maintain a nice Champagne buzz the whole time. There is no food here, just towers of coupe glasses filled with bubbly pink wine.
The denizens of LC World are all oddly, dreamily familiar, like you know them from high school or a two-episode arc on Laguna Beach, The Hills, or The City. There are so many sausage curls and fishtail braids and intricate braid crowns. Everyone is dressed in varied muted tones, pastels, and variations of beige. To gaze around the room is a gentle experience, like a down pillow hitting you in the eye.
Lo Bosworth is there, too! She's Periscoping the experience. Olivia Culpo and Chrissy Teigen and Ashley Tisdale and all the other relatable celebrities with many projects have also come out to support her. We are all connected, the celebrities and the non-celebrities and the maybe-celebrities, because we are all friends of Lauren. We've all grown up with her, even if we've never met her. (This sentiment applies even to Chrissy Teigen, who mentioned that she'd never met Conrad but was a huge fan.)
The clothes that Lauren Conrad would like the world to wear are elevated basic with a '70s California vibe. The colors seemed to be from the "Disney forest at dawn" palette — lots of rose gold, soft gray, and gentle sparkle. There's a fox-printed jumpsuit I would buy (Dylan Penn was already wearing it), a lace romper you would buy, an ombré sequined skirt I could buy, you could buy, or your mom could buy, and an ivory fringed crop top that Ashley Tisdale was already wearing. And lots of tulle — "If you're giving me a runway collection it has to have tulle!" she told me. Here, in these clothes, models walk down the moss- and flower-arrangement-dotted runway with smiles on their faces (kind of), bopping to a soundtrack of "Jolene," the techno remix (remember, we are happy here).
Later, Lauren Conrad came out to chat about the show, wearing white high-waisted pants that will never get stained and a white lace shirt from her collection. "Do you ever just want to try something radically different style-wise, you know dye your hair black and just go totally goth?" I asked, wondering if there was a storm cloud that lived somewhere inside her. "Oh no!" she said, and paused for a long time, wondering what other life she could possibly aspire to. "I'm sorry I don't have a cooler answer for you. I feel like I tried everything I wanted to!"