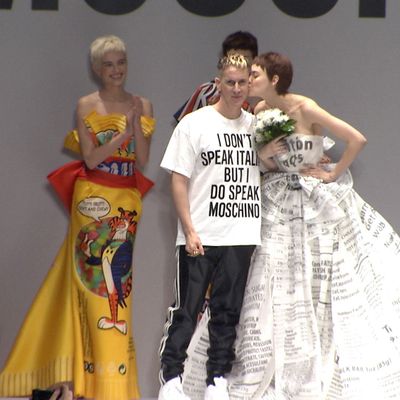 Jeremy Scott.
Photo: Courtesy of Jeremy Scott
Supine in ripped double denim, Jeremy Scott is speaking about himself in the third person. "He's an icon, he's pop culture, he is … sounding very delusional right now," he trails off, then casually swats away a fly that has found its way into the studio. It's a representative scene in The People's Designer, the Scott documentary that has its New York premiere tonight. The setup he's sitting in, with its green-screen backdrop and its constantly rotating camera, looks like the set for the new Star Wars movie if Errol Morris were directing. But Scott seems eminently comfortable.
In fact, the biggest takeaway from the film is how comfortable Scott seems in a host of heterogeneous situations. He's at ease deplaning in Milan in tie-dye sweats, a Bart Simpson sweatshirt, a leopard-print robe, and a SpongeBob SquarePants bag. He's serene hanging out with his mom, dad, and sister in his Missouri hometown, but equally in his element at Fashion Week with his host of celebrity friends, who make frequent cameos in the film to praise his output. ("That shit is art," says A$AP Rocky, who sums up the line as "F.U.N.")
In one scene, he's leaning on a paper-towel dispenser in a bathroom at the University of Phoenix Stadium while his friend Katy Perry primps for the Super Bowl. (Scott dressed her for her halftime concert.) "You look gorgeous, and you are gonna kill it, and you were born for this moment, and that's the truth," he says, sounding like the best friend to one of John Hughes's queen bees. Then, clenching her Escher staircase of a barrel curl: "No matter what, you have the most perfect ponytail in Super Bowl halftime history."

If you leave the theater wanting to be Scott's friend — which seems to involve being on the receiving end of lots of giggles and compliments and shared selfies — that's by design. The documentary makes him come across as warm and cuddly as one of Franco Moschino's teddy-bear dresses (the ones that Scott later riffed on with his sold-out iPhone cases). That makes him the most approachable subject of a fashion documentary in recent history. Dior and I depicted Raf Simons as a creative, but clearly inward-focused figure; The Last Emperor made us fall in love with Valentino's Old World elegance and charm. But in The People's Designer, Scott, who is one of the few fashion designers recognizable enough to get stopped on the street, is making a claim for universal BFF status.

Scott calls me from his Beverly Hills home, where, as I now know from watching the film, he keeps a bust of himself on the piano and a photograph of himself shirtless being pierced by arrows. Considering he owns and displays these items, it's not a surprise to hear him say the following: "Posterity is something I'm a big fan of, because that's how you leave your legacy. Not to sound pompous, but just to be truthful."
While the timing of the film, which tracks his debut at Moschino, seems like it had to have been planned, it was actually a fortuitous accident. When director Vlad Yudin initially approached him, Scott says, his appointment to the house hadn't actually been made public. "I thought, Wow, I'm going to do this thing that no one knows about yet. And I thought, Why not capture it?"
Why not, indeed? A-lister cameos aside (along with Perry and Rocky, Miley Cyrus, K-Pop sensation CL, and even Whoopi Goldberg all make the scene), the film has a fairly clear-eyed view of how a fashion show actually comes together. We see tracksuit-clad stylist Carlyne Cerf de Dudzeele, who very nearly steals the show, scrutinizing models' walks, Michel Gaubert putting together the soundtrack, and various members of Scott's team finessing the details. Distinctions are elided so that non-celebs like Pablo Olea, Scott's longtime right-hand man, get just as much screen time as the celebrities. This seems right in line with Scott's egalitarian, 15-minutes-of-fame and Looney Tunes–sweatshirts-for-everyone vision.
"Especially for young people, I hope it's a story that is inspiring," he says. "I feel that, ultimately, it is an American success story. I was born dirt-poor with barely a stitch on my back, and no name or prestige attached to me, and no real clout or connections. So to have people look at me now and think, you know, Wow, da-da-da-da-da"— meaning the fame, the cabal of celebrity friends, the fan art he's regularly tagged in on Instagram — "it's like, no, I started with nothing, and all this came from my work and my determination and from my talent." He hopes the film will inspire the kids who go to see it "whether it's to be in fashion, music, or even an accountant." (That said, it's hard to imagine this film inspiring anyone to become a CPA)
The sole dissenting voices onscreen come from critics. Good sports Suzy Menkes and Vanessa Friedman both gamely appear to talk about their negative early reviews of Moschino. Menkes seems to have come around, while Friedman doesn't indicate whether her opinion has changed since she wrote, while still at The Financial Times, "Kiev was burning and in Milan, Jeremy Scott made his debut at Moschino with a series of bad jokes." In the film, Scott exhibits a rare moment of pique, saying, "I don't think I've ever seen a statue for a critic. Take that, bitches!" while aiming finger guns lens-ward. When we speak, he's a bit more measured. "I'm fine with people not liking my work. But I also think it's too easy to slag it off because you don't like it, or because it's not for you, and not think about how it doesn't connect to a larger thing," he says. "I don't make clothes for the critics, whether it's Alex [Fury] or Suzy or Vanessa."
Instead, he makes clothes for the kids who were just like him — outcasts at school, maybe even down and out, daydreaming about taking a runway bow. (When Scott first went to Paris, he was homeless for a time, and in a voiceover, he notes that he wasn't "bought and brought" to the City of Light like so many young Americans who've been snapped up by luxury houses.) Maybe some of those kids will see it at the local multiplex when the film goes into wide release. Or so he hopes. It's been observed before that the designer aspires to be a celebrity, but if anything, Scott sounds more like he just wants to be liked. "Hopefully more people will get to know me and love me, as a person and not just as an entity," he says earnestly. Not to mention that a ticket and a large popcorn will run you far less than a Moschino gown.