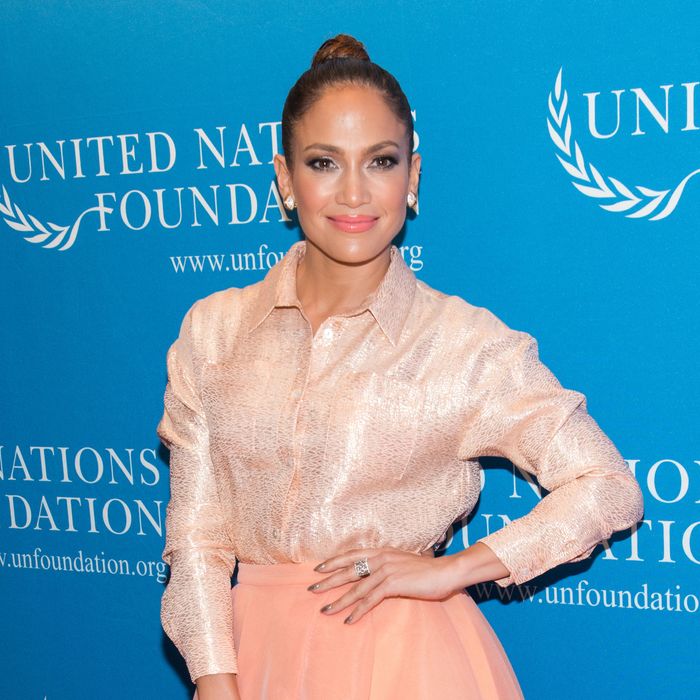 Jennifer Lopez.
Photo: Noam Galai/WireImage
Jennifer Lopez is raising a boy and a girl and it's getting her thinking about gender equality.
"Having boy-girl twins really opened my eyes to how different men and women are and makes me think about how I treat my boy and how I treat my girl," she said at a discussion on gender equality at the Four Seasons Restaurant Friday night.
Lopez spoke with Yahoo global news anchor Katie Couric and United Nations president and CEO Kathy Calvin on her new role as global advocate for women and girls at the U.N. Foundation. Earlier in the day, the U.N. General Assembly adopted 17 sustainable development goals. One of them was to achieve gender equality for women and girls in 15 years.
"At the end of the day, when I picture 2030 when we reach these goals, I want my twins standing side by side and I want them looking at a landscape that has the same opportunity for both of them," she said. "That the world is as much of an oyster for Emme as it is for Max."
The Golden Globe– and Grammy-nominated actress and singer wants her 7-year-old twins to be "whole beings." She doesn't want her children to be beholden to gender stereotypes. Her son should express his emotions — just like a girl or a woman would.
"That's my hope for them: for them to love themselves, for them to be okay in their own skin."
The award-show speeches of Viola Davis and Patricia Arquette have resonated with Lopez. She's aware that other powerful women around her are talking about changing the world for women and girls — and she wants to be a part of it.
"As an artist, I strive to inspire so people can aspire to do bigger and better things with their lives," she said. "And for me, women should have all of those opportunities and should aspire to be the president of the United States … it could happen soon!"
Women can find their voices in smaller ways, too. At her concerts, she particularly enjoys hearing women screaming. She feels as if she is unleashing their power — particularly in cultures where women's voices are muted.
"I truly believe that all women deserve to be safe, to be healthy, to be educated, to be empowered," she said.