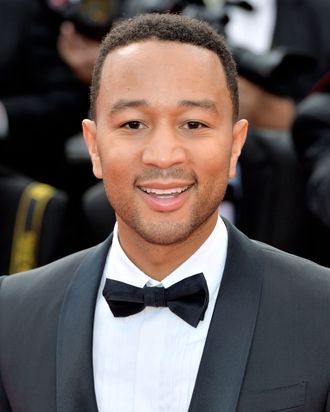 One half of an ordinary couple.
Photo: Anthony Harvey/Getty Images
Between their trips to Shake Shack and their ramen tours of Japan, John Legend and Chrissy Teigen are such a cute couple that they've inspired ABC to pick up a sitcom pilot about their lives. Legend — who is the new face of AXE's White Label Collection and its music and style mentorship program, White Label Collective — talked to the Cut about fragrance, Tinder, and, yes, his adorable relationship.
What was your first scent memory?
The food in my mother's kitchen. I can smell my mother's fried chicken.
What do you think Chrissy smells like?
Dior … something. It's a perfume she wears, uh, the red one. Poison. She smells good.
There's a rumor that your relationship with Chrissy is inspiring a TV sitcom?
It's very early in the process, but we've been talking to Kenya Barris, who did Black-ish, and they're developing a pitch around a couple that's loosely inspired by our lives. We would be producers and give some kind of story input, but then let them run with it. It wouldn't be directly biographical, it would be using our lives as a jumping-off point, and then creating a series with its own life. It's in the early development stages.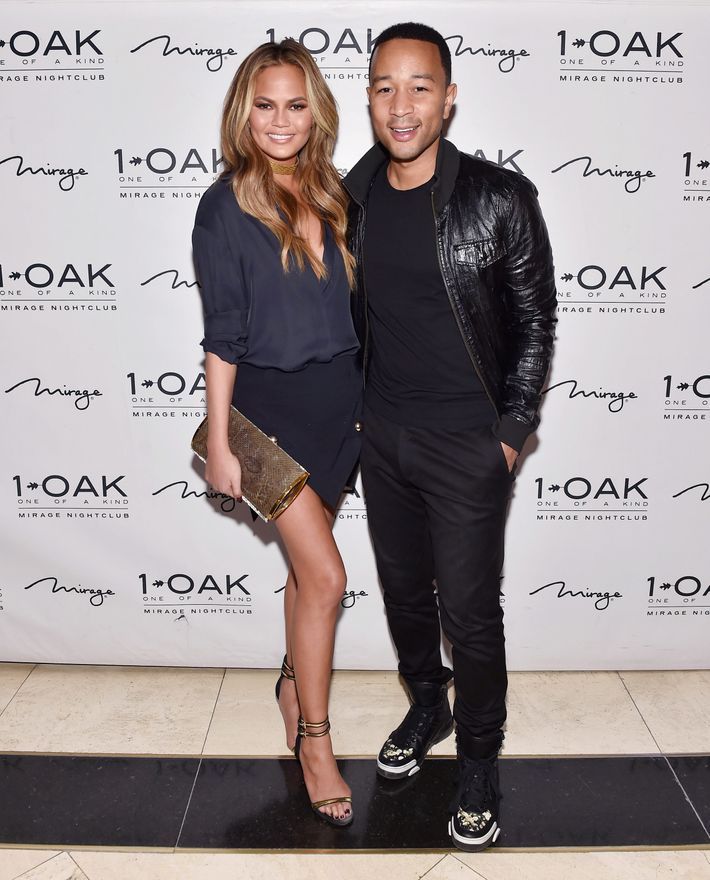 How did the idea come about?
Kenya was always inspired by my song "Ordinary People," and said it meant a lot to his relationship. He knew that I had a production company and it was his idea to do something like this. He wanted to think about a modern-day romantic comedy. He's inspired by great romantic comedies of the past, but he wanted to do something new and fresh for a new era.
How do you feel about people calling you and Chrissy a "couple of the moment"?
"Of the moment" feels kind of weird. I don't mind if we're not talked about as much in five or ten years, but I don't want people to think that our relationship is of the moment. We plan to be together forever. We want to be a couple forever. But I understand the press's fascination with couples' ebbs and flows, and I don't mind if they're not obsessed with our relationship as they are now. But I want us to still be together.
Was there a certain point in your relationship with Chrissy that made you think, Oh, this feels different?
Oh, yeah. I fell in love with her within the first nine months of us being together. I had never really been in love before, so that automatically felt different. I never wanted to marry someone else before. There's a lot of things where this is a first for me, and it's pretty cool. When it feels right, you know?
What would be your relationship advice to people? Let's say they are struggling with commitment?
For me, it was easy to make a commitment once I knew that this was a person I wanted to be committed to. You have to be in the right place, but it's also important you're with the right person. You have to kind of let go of some of your selfishness. With Tinder and all these other things, there's always this kind of illusion with infinite choices.
There's something very cool about saying, "Oh, I actually really care about this person, and I want to commit to loving this person and being loyal to this person." You can't get that from the kind of infinite multiple choices that are out there. That can be fun in its own way, but I'm happier now without all that.
Have you and Chrissy been on Tinder before? 
I've never been on there. Chrissy's been on there with her single friends. It's just, you know, for fun and entertainment purposes, I'd assume. I'm telling myself that. No, but honestly, she does it for fun because she has a few single girlfriends and it's an entertaining thing to just go on and go, Boop, boop, boop. It's weird, not having dated in that era, I have no direct experience with that concept. How things have changed.
This interview has been condensed and edited.