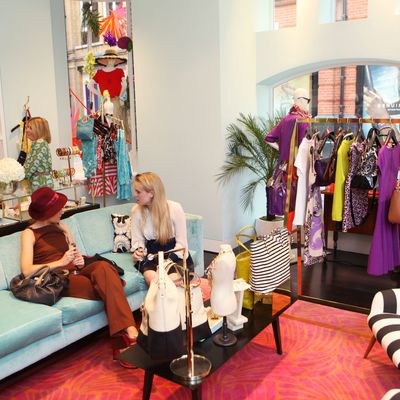 Photo: Dave M. Benett/Getty Images
Not only are Kate Spade sales associates expected to push you to buy the $400 satchel named after a fancy street, now they will also be tasked with making your in-store experience feel as if you've stepped directly into an Instagram. According to BuzzFeed, the retailer's store associates are being rebranded into "muses" so that they can more effectively curate the peonies-and-pearls lifestyle you aspire to.
"We realized being called a sales associate did not represent that change and that being called a muse — a muse of style, a muse of lifestyle, a muse of the interesting life — was a nice way to manifest that change for them and to say to the associate: 'Your job is now not just a sale. Your job is first and foremost to authentically engage with that customer [about] how she wants to experience Kate Spade that day,'" Kate Spade CMO Mary Beech told BuzzFeed. "That change, I think from an associate to muse has been incredibly empowering to our associates."
In short: store associates sell handbags, but muses sell lifestyles. Let me know when the "stay-at-home heiress" option is 30 percent off.