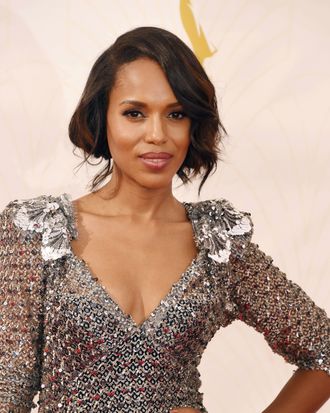 Kerry Washington.
Photo: Jeffrey Mayer/Getty Images
Kerry Washington, a beautiful woman with a laugh that sounds like bells tinkling, is doing a press tour in advance of the return of Scandal, whose fifth season premieres tonight. The woman who plays Olivia Pope on TV had a different pope on the mind today when she appeared on Live! With Kelly and Michael, and it's not just because he's been all over the tabloids lately.
"I think my celebrity crush is the pope," Washington told Michael and Kelly, who probably secretly agreed. "I always get that question and I never want to say anybody, because then you see him at a party. I figure I won't see the pope at a party." 
You never know the kinds of parties the pope might end up at while he's in town, Kerry! But she added it's not just because he's sexy:
"I think he's so special. I think he's so humble and so focused on service — just really focused on doing good in the world," Washington said. "Not being judgmental. Letting God be the judge." 
Is having a crush on the pope a new trend for celebs du jour?
Your move, Francis.