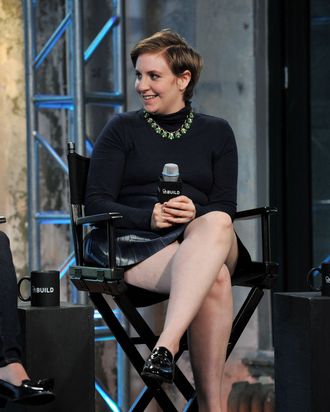 Lena Dunham.
Photo: Ben Gabbe/Getty Images
In addition to writing about fun beauty products and publishing short stories, Lena Dunham and Jenni Konner's new newsletter promises to cover voting and politics. So far, the two haven't been messing around: This summer's preview had an interview about Sandra Bland with activist Chenai Okammor, and yesterday, a clip went up of the first issue's video interview with Hillary Clinton.
"We don't want to tell people how to vote or who to vote for, but we did want to make it clear that to us, Hillary Clinton is a really powerful feminist speaker for this day and age," Dunham explained at an AOL Build talk in New York with Konner that afternoon. "And to try to really unlock the story of her as a person and not just her as sort of part of a political dynasty." That story includes everything from working on a salmon cannery to turning down Bill Clinton's proposals twice before saying yes. "She was a really un-disappointing person," Dunham said.
As for what was most surprising:
Lena Dunham: I guess I was ready for more formality.

Jenni Konner: Me too. She was so, like, down to just chill.

L.D.: Beforehand we were so nervous. They were like, "Okay, when she gets here, you can go to the stairs and walk Madame Secretary to her chair," and she came down and she's like, "What's up, girls?!" We fully got a hug, and by the end she was like, "You have to give me the name of your ear, nose, and throat doctor!" I was like, "How would I ever get in touch with you? You didn't give me any of your information!"
"She was really just a charming pleasure," Dunham said, though still clearly a politician:
L.D.:  But then you could also see that sort of presidential side when we asked her a question. For example, I asked her a question about her policy as it relates to Wall Street, and the fact that a lot of the young people who are excited by Bernie Sanders are saying he's going to be harder on the moneymen of our country. You ask her that question, and suddenly it's like, laser focus, she is ready to give you a presidential answer. And then she's also ready to veer back into talking about her, like, Donna Karan dress from 1993, and I loved that duality.

J.K.: And that duality is very much the Lenny duality, too. Which is, sort of, we can get serious, we can talk about politics, but we also really want to talk about that dress, and how much of your shoulders it revealed.
The full interview comes out September 29, and you can sign up to get Lenny here.