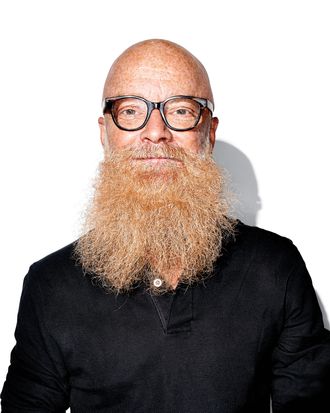 "I'll dress up in drag about twice a year, in Lucite stilettos and a flesh-tone glitter gown — it's a little difficult because of my beard."
Photo: Bobby Doherty/New York Magazine
Andrew Chapin, Law-School Counselor
What a wonderful beard.
People are so outrageous: Total strangers will come up to me on the street and just grab it. I've had it long like this for the past three years — the older I get, the more comfortable I am with being unusual.
Where are you from?
Born and raised in Cleveland Heights, Ohio, where I had great success as a child actor. I was a spitting image of a young Ron Howard. I did commercials for Schwinn, Sears, an aluminum-siding company, the truckers' union. I had a fan club in Cleveland.
Did you keep on acting?
I did. I moved here to do theater while working as a cater waiter. At 33, I realized that you have to live to act; it was something I loved to do, not something I had to do. But I'll dress up in drag about twice a year, in Lucite stilettos and a flesh-tone glitter gown — it's a little difficult because of my beard.
Lightning Round
Neighborhood: Gramercy.
Rent: "Under $1,000. I've lived in the same one-bedroom for 36 years. My husband lives with me now."
Pets: One. "A wire-haired dachshund named Kipper."
Reading: Smash Cut, by Brad Gooch. "It's a bit like going down memory lane for me."
Favorite restaurant: Morandi.
*This article appears in the September 21, 2015 issue of New York Magazine.