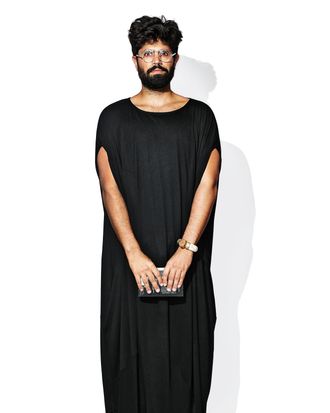 "When I wear this, I get a lot of 'What are you?' And I'm like, 'I don't know, what a good question!'"
Photo: Bobby Doherty/New York Magazine
Andrew Medlin, Store Planner
Cool dress.
I love a long black dress! This one is from Maison Margiela. I started wearing dresses when I lived in the Middle East, and then when I came into my queer self, I started playing more with de-gendering clothing. When I wear this, I get a lot of "What are you?" And I'm like, "I don't know, what a good question!"
How was your summer?
Great — the beach is my jam. I met the two guys I'm currently dating at the beach earlier this summer: one at the nude beach in Sandy Hook, when a whole group of us young, hairy pups took a bus out there one day, and then the other on Fire Island. They're both lovely.
Are you in a throuple?
No, but I've been in one before. The throuple can work really nicely; when I was at university, I was in a throuple with a more established couple who had real things like dishware to contribute to the relationship, and I could just be the young, cute one and like, "I'm exhausted, can you make me food?"
Lightning Round
Neighborhood: "That awful place between Chelsea and Hell's Kitchen."
Roommates: One.
Favorite TV show: Downton Abbey. "Call me basic."
Taxi tip: $1. "More if I'm going to the airport."
Reading: "Abhorsen, by Garth Nix, the third book in a fantasy trilogy about this necromancer named Liraei and her adventures with a demonic cat."
*This article appears in the September 7, 2015 issue of New York Magazine.