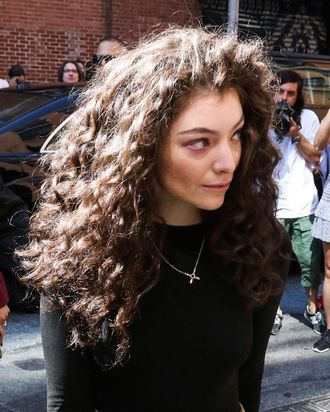 Lorde.
Photo: Image Press/© Corbis. All Rights Reserved.
Ethereal teen witch and subject of great-hair envy for many Lorde was at New York Fashion Week on Wednesday making an appearance at Yeezy Season 2. (An obvious invitation given her namesake, but where was the Holy Ghost?) Prior to her arrival, the pop ingenue tweeted a photo of herself luxuriating in a makeup chair — all while brandishing a deep red ring around her right eye.
Her fans, with a deep concern for her well-being, tweeted things at her in return like, "release the album" and "very poetic u should make a song about your pink eye. Or a song about anything. New music please," while Lorde barreled ahead to arrive at Yeezus's show in stylish camel culottes, black Yeezys, and a medical take on the red eyeliner trend.
After hanging with Drake (who later called her his "Wifey (Low Key)"), and sitting front row, Lorde returned to the comfort of her own bed to ponder what exactly her ailment was. "My eye is weeping and screaming," she wrote on Instagram. "everyone already thinks i'm strange and it's a kanye show where the freaks are beautiful so why not say fuck it and let's dance with the melodrama?" Let's just hope the melodrama doesn't step on her toe; she's got enough going on.