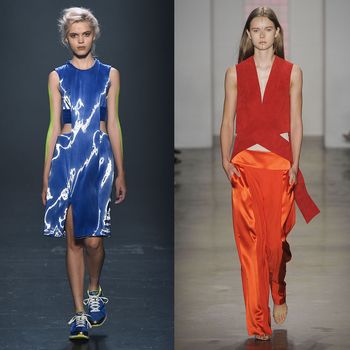 What was that thin line of gold running down the faces of Dion Lee's models, oh so striking head-on but barely visible in profile? It was a headpiece created by his fellow Oz-based brand Sarah & Sebastian, each one custom-made to fit the models' features. "The idea was something that contoured the body, and this idea of individuality," the designer said post-show, as underlings carefully collected the castoff headpieces. "I liked the idea that it was something that was just a highlight or a shadow," rather than an overwhelming statement, he added.
His clothes, too, were neutral and unobtrusive, with the goal of "blending into the texture of the skin," he said, in hues like pale beige, umber, and rose gold, some with transparent bodices. They felt a bit like ultraluxe skin. Lee stuck with his signatures, like dramatic ribbon-cut skirts and gill-like cutouts, but the clothes felt a little gentler this time around. The watchwords, he said, were "warm and soft and organic."
If Lee exchanged some of his early emphasis on all things slick for designs that felt more humanistic, a brand-new label, Phelan, went in the opposite direction. For her debut presentation, designer Amanda Phelan opted for tech-y, phosphorescent fabrics. In Alphabet City's La Mama performance space, dancers in bra tops and palazzo pants stretched alongside her sporty high-shine minidresses, worn with neon sneakers, and her innovative knits, some made from reflective yarn. (She was previously the head of knitwear for Alexander Wang.) Even simple looks were shimmering marvels up close — like a long gray dress engineered in an hourglass shape, with sleeves that ended in gloves. In the show notes, the designer said the collection sprang from "the idea of using light to hide and reveal, to close and disclose a subject," and under the theater's row of spotlights, she delivered a powerful statement about the complexity of surfaces.
Click here to see all the looks from Dion Lee's spring 2016 collection.
Click here to see all the looks from Phelan's spring 2016 collection.