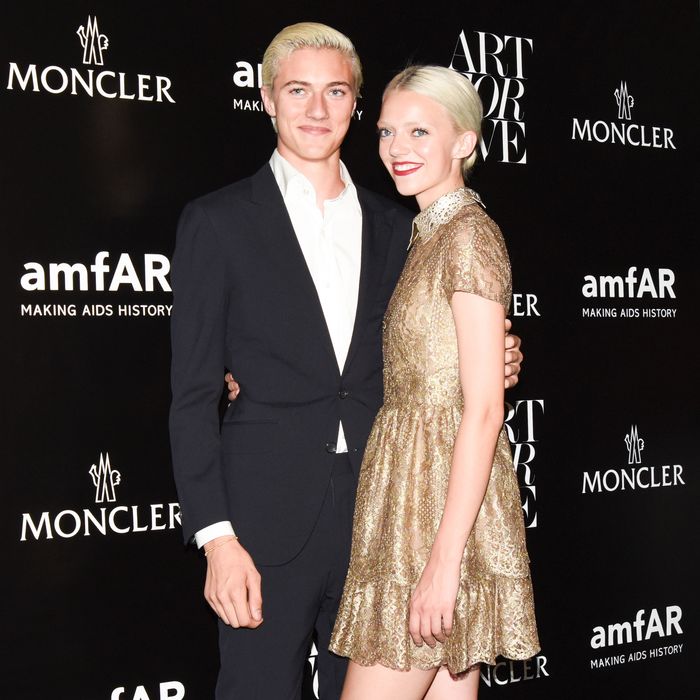 Lucky Blue and Pyper America Smith, cool teens.
Photo: Owen Kolasinski.com/BFA
Social-media superstar model Lucky Blue Smith and his sister, Pyper America, star of Moncler's latest ad campaign, shot in Iceland by Annie Leibovitz, and the Cut caught up during the brand's "Art for Love" exhibition at the New York Public Library last night. Besides being tall, beautiful, and having spent their teenage years modeling rather than as awkward, acne-ridden, slouching misfits like the rest of us, here are six more reasons that Lucky Blue and his freakishly good-looking sisters are not like you and me.
1. Their hair doesn't frizz in wet weather.
Lucky Blue: We actually shot [the Moncler campaign] in Iceland; it felt like the weather was changing every five minutes, so it was like bipolar, pretty much.
The Cut: Does your hair get frizzy when it rains?
Lucky Blue: No. Not really. [Laughs.]
2. They are unfazed by lying in slime.
Lucky Blue: One of my favorite shots was on these, like, lava rocks — but moss was growing on it, and I was lying on it, and it was really green, and the picture was really pretty.
The Cut: Was the moss all over your back when you got up?
Lucky Blue: No. I don't know — I didn't check. [Laughs.]
3. Even animals behave weirdly well around them.
The Cut: There is a photo of you with a dog around your neck. How did they keep it from moving around? Was a trainer standing by?
Pyper America: Well, the dog was actually falling asleep on my shoulders. Like, it was relaxed for some reason, so I feel like it wasn't too distracted, and it was very easy.
4. They don't argue or pick on one another, like virtually all other siblings do.
The Cut: When you work with your siblings, do you bicker? Is there that dynamic?
Pyper America: Oh no. We have the best time. Like, if I could, I would do every job with Lucky, or any of my siblings. We just tease each other, and it brings a lot of good energy to the shoot.
5. Their huge social-media followings haven't gone to their heads, unlike some other teen internet sensations.
The Cut: Do you ever respond to fans on social media?
Lucky Blue: Yeah, I message people all the time. Like, usually they just say, "You're really cute," and I'll just be like, "Oh, thanks. You too."
6. They have received more marriage proposals than they can remember.
The Cut: How many times would you say people have asked you to marry them, whether screaming it out to you, or posting on Instagram or other social media?
Lucky Blue: Uh, countless times. I don't know, I can't keep track. [Laughs.]

This interview has been edited and condensed.