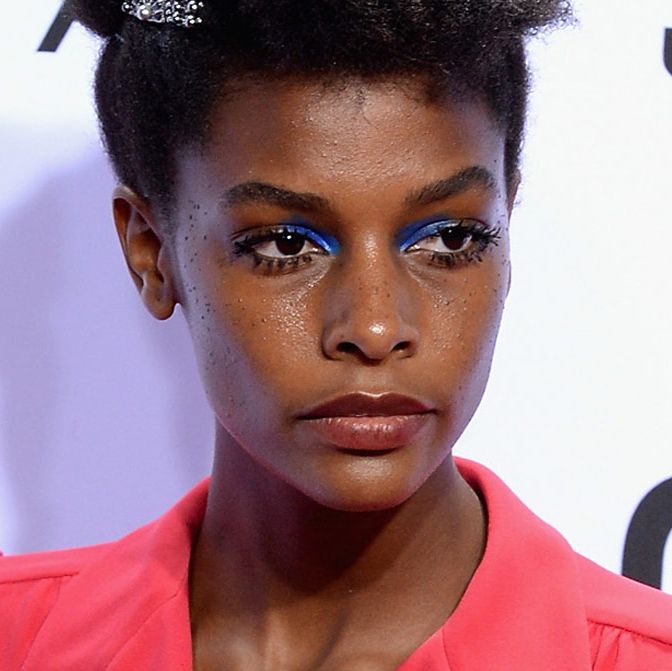 Tonight, Marc Jacobs presented his show outside the legendary Ziegfeld Theater, home of the original Ziegfeld Follies. Models walked an actual red carpet, calling to mind movie-premiere glamour. But unlike the two extremes we've come to expect on the red carpet — very polished, or disheveled and "effortless" — Jacobs, François Nars, and Guido Palau presented a vision of grunge glamour.
Red carpet wasn't a specific inspiration point; instead, the Jacobs look was a modern take on the high, fun, and downtown glamour of being out all night. But rather than merely creating French boudoir eyes or slept-in waves, Nars and Palau dreamed up a lightly '40s-inspired grunge-glamour girl. The inner corners of the eyes were touched with turquoise (NARS Solomon Islands Eye Paint), and the skin gleamed, not with strobing or highlighter, but with a greaselike shine (Nars said he used Vaseline) from "sweating all night." Models were also given three coats of either a super-glitter red (Marc Jacobs Beauty Surrender Dorothy, a new polish color out for Fall) or silver polish (Marc Jacobs Beauty Glinda Hi-Shine Nail Lacquer) because "Marc wanted the nail to be super, super, super shiny," explained manicurist Jin Soon Choi backstage.
For added grit in the look, lashes were purposely clumpy, under-eye circles were actually drawn on, and the lips, although left neutral, were left the slightest bit uneven. "The idea is that the makeup doesn't look perfect or like a makeup ad. It's the anti-cosmetic makeup. The girls should look interesting and beautiful without looking like they came from a makeup school." For modernity, the skin was clear of foundation, and the eyeshadow shape was a greasy, wiped-away hint of blue, rather than a cat eye or anything involving sharp lines.
Of the hair, Palau said it was "completely" about grunge. "That girl is always in his mind," he said of Jacobs. After considering hair from different eras like the '40s, '70s, and '80s, they decided to create a '40s look with an edge. "Technically, yes, it's a French twist done badly," Palau said of the stayed-up-all-night chignon, secured with filigree pearl brooches and combs provided by Jacobs.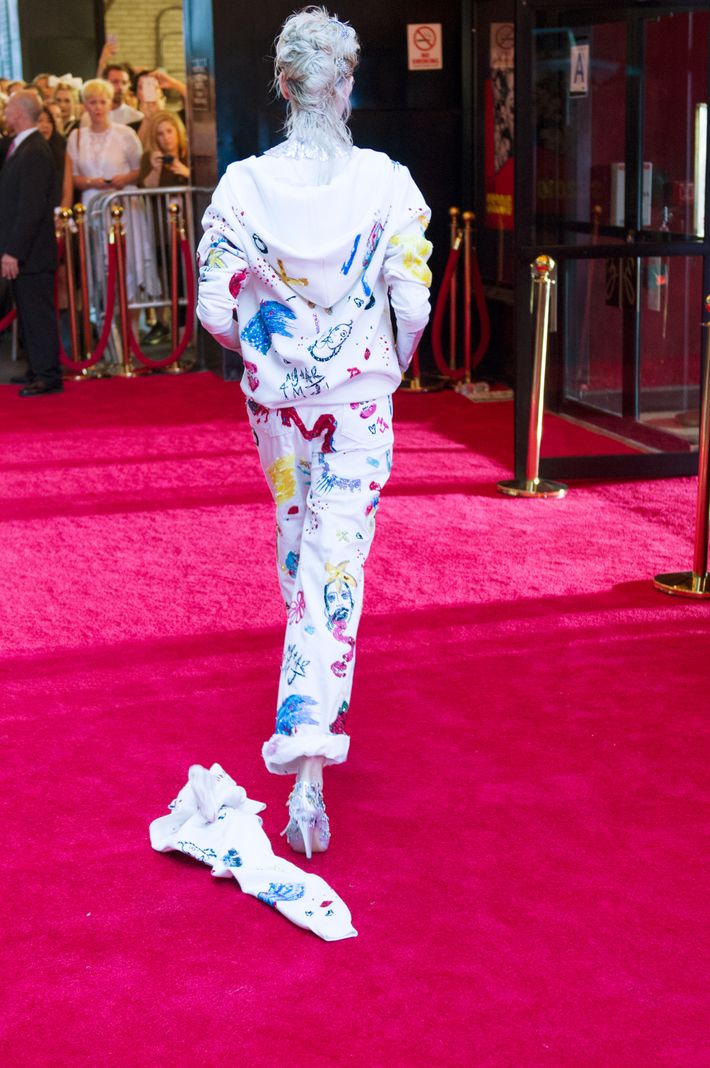 Much like the makeup, modernity was fused into the look with the almost-wet texture created with Redken Guts 10, and the random, disheveled flyaway bits swept loose from the style. "It would have been a very different hairstyle if it were dry," for instance, Palau explained. Although the beauty look could have easily come across as sad or tired, the infusion of glamour from the clumpy mascara, worn-in brightness of the eye, and the gilt from the party-hard chignon — paired with the rich embellishments and colors of Jacobs's Americana-meets-Follies collection — kept it feeling happy, youthful, and fresh.
At a time when we're used to red carpet being pretty or sexy or contoured to Facetuned smoothness, Jacobs's looks feel refreshing and interesting. "It's not just pretty," Nars said. "We don't like pretty. Marc [Jacobs] likes girls that are more of a character."
While it's unlikely any celebrity will replicate this look on a red carpet in the near future, for those of us attempting to look glamorous, it's a helpful reminder that the individual reigns supreme in beauty. As Nars says, "It's not putting on makeup to put on makeup. It's a personality."