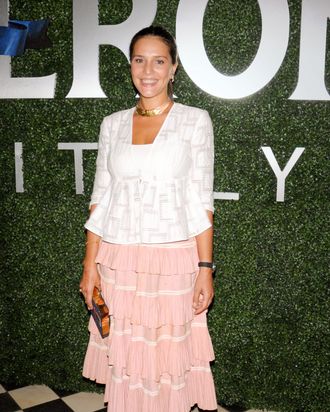 Margherita Missoni at the launch of her collaboration with Peroni.
Photo: Efren S. Landaos/Corbis
It seems fitting that Peroni, the beloved Italian beer brand, would invite Margherita Missoni, of the Italian design dynasty, to collaborate on a project. "We were talking about what we could do, and they came up with the idea of a pocket square, and I was, like, why not?" she said at the collaboration's launch Tuesday at the Gramercy Park Hotel. "I never thought I would do anything in menswear, and I'm not doing anything in menswear, other than this, but since getting married to my husband, who is very passionate about his wardrobe and his style, I started learning about the subtleties."
Instead of utilizing one of the brand's trademark patterns, she began with researching the public squares of Rome, where Peroni is based. "Because it was a pocket square," Missoni explained, laughing. "And the nicest one, design-wise, is the Piazza del Campidoglio, and so we decided to reproduce that on the pocket square, and go with blue and white, the most traditional colors for men." The historic piazza was designed by Michelangelo in 1538.
As for her Fashion Week plans, she recently had her second child, so her activities will mostly take place in the evenings; during the day, she has to be available for breast-feeding. And with two small kids, she hasn't had much prep time: "I just got a blow-dry, which I hope is going to last a couple of days, at least, in this heat."