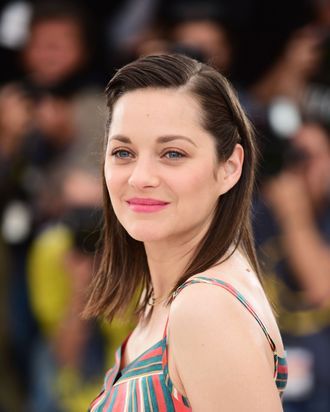 Marion Cotillard.
Photo: Corbis
French actress Marion Cotillard has starred in over 40 films in her career, winning, among many other accolades, the Academy Award for Best Actress for her portrayal of Edith Piaf in La Vie en Rose. And now she can add another title to her successful career: that of "non-feminist." In a new interview with Porter magazine, Cotillard does not mince words about how she perceives feminism to be interfering with the film industry.
Referring to the lively debate about gender inclusiveness that happened at the Cannes Film Festival this year, she had this to say: "Filmmaking is not about gender. You cannot ask a president in a festival like Cannes to have, like, five movies directed by women and five by men." She continues, "For me it doesn't create equality, it creates separation. I mean I don't qualify myself as a feminist."
Qualifying her statements, Cotillard goes on to say that she believes that we need to "fight for women's rights" but that doesn't mean separating women from men. "We're separated already because we're not made the same and it's the difference that creates this energy in creation and love," she added. "Sometimes in the word feminism there's too much separation." There is also no "I" in "team," but Cotillard did not comment on that. We wonder if a  "my quotes were taken out of context" is forthcoming.