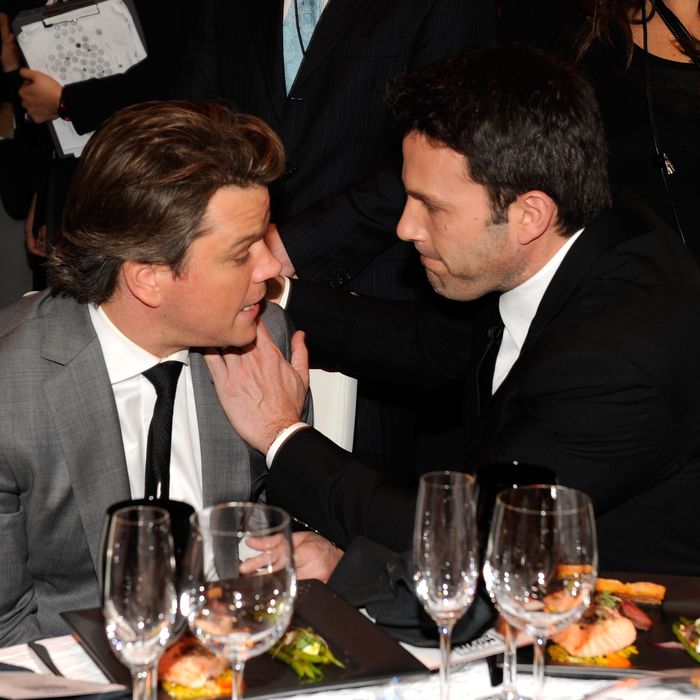 It hurts Matt to see Ben hurting.
Photo: Kevin Mazur/2011 Kevin Mazur
There was a lot of collateral damage when Bennifer stopped being a portmanteau and resumed being two separate people: Ben Affleck was hurt, Jennifer Lopez was hurt, the general public was hurt.
But in an interview with The Hollywood Reporter, Matt Damon explains how he, too, was personally affected by his bro's high-profile split.
There's nobody who's more misunderstood. Ten years ago, the public image of him could not have been farther apart from who he actually is. It was like he was being cast in a role, that he was a talentless kind of meathead, with his whole relationship with Jennifer Lopez. He just got cast as this person that he wasn't. It was just really painful. It was painful to be his friend, because it wasn't fair, you know? To my mind, nobody really got him at all.
Just like that friend who cries with you when you cry, and for some reason keeps crying even after you've gotten over it, Ben's pain is Matt's pain. Ben's anguish is Matt's anguish. Ben's distress is Matt's distress, to continue to discuss in the press nearly 10 years after it happened.