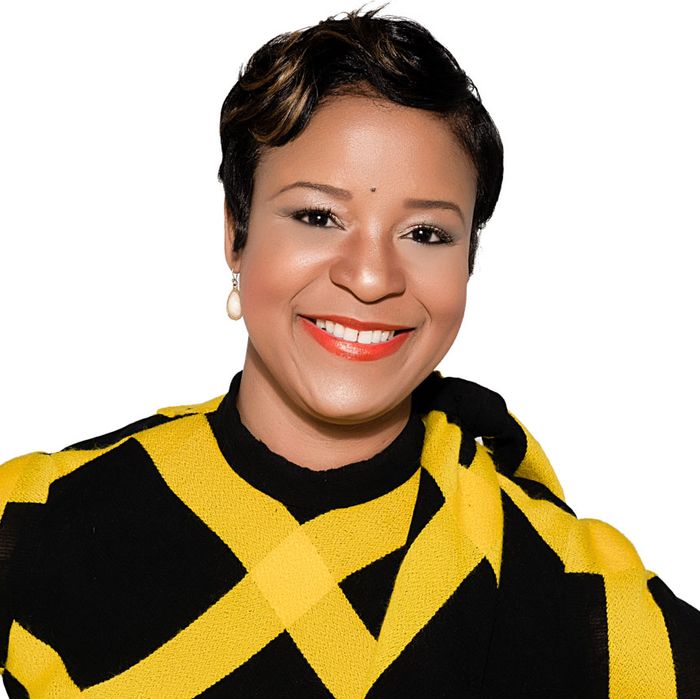 Brandice Henderson.
Photo: Arekah the Goddess Photography
It's hard to believe that in 2015, under one percent of designers found in department stores and major e-commerce sites are people of color, but that's the harsh truth. Brandice Henderson, founder of Harlem Fashion Row, is trying to change that. For the past eight years, Henderson has been working tirelessly to give multicultural designers the space to show their work, be celebrated, and change the industry standard. We sat down with Henderson to talk about what it's like starting a company with no financial backing, why black designers need their own advocate within the fashion industry, and how she hopes things will change in the future.
You had a long career before starting Harlem Fashion Row. How did that lead to you becoming an entrepreneur?
I worked in retail, but my first real job in fashion was working as an allocation analyst for Catherines, a plus-size women's store owned by Lane Bryant, based in my hometown of Memphis. I got into buying from that and moved up to being a senior buyer, but I knew that I needed to move to New York after that to do what I ultimately wanted to do with my life. When I moved to New York, I ended working for a vendor that had just broken the Victoria's Secret account, which was incredible because as a buyer you're buying merchandise based on what's selling, but as the merchandise manager I was able to see how to run a business from start to finish. During that job, I went to a small fashion show in Brooklyn, and it become one of those experiences that I couldn't let go. After that moment, I started planning and building even though I had never produced a show in my life.
It's now been eight years. What was it like making this happen on your own?
The first question was How the heck am I financing this? I didn't have a business plan when I started — it was just passion. But passion doesn't pay the bills. The first two years I financed it myself with the help of my family and friends. The third year an agency finally approached us that represented Target, and we started working with them then.
How did you go about finding designers to be part of HFR when you didn't have any connections within the industry?
I had to beg designers to be part of it! Nobody knew who we were. The first few years it was extremely tough to get people onboard. Now we have an application process, and I personally conduct interviews. They have to have been in business for at least two years, and be selling online. Mostly, I'm always looking for someone who has a designer's heart, meaning someone who isn't going to quit when it gets hard. Being a designer, not coming from money, not having connections, it's very easy to go and do something else, so I want the people who have no other desire but this.
Which designers are you most excited about?
I love Kimberly Goldson. I wear her clothes a lot, and she has been through so much to get to where she is. She and her sister run the business together and finance it on their own. I also love Laquan Smith. Though he hasn't officially shown with HFR, he actually modeled in the beginning! I have a video of him showing his sketches to people back then, so to see him coming from that to now dressing celebrities like the Kardashians is amazing.
What do you say to people who don't understand the need for HFR in the fashion world?
When I first started, I didn't know how many designers of color were out there. I went through every website of every major department store, and I kept saying, There has to be more out there. There's no way there's only maybe five somewhat-major black designers! I didn't understand what my purpose was for HFR in the beginning, but I knew that I had to keep pushing. And the fact is, we just aren't represented. I know what it's like to want to work in fashion, to be from a small town, and to not know anyone and try to figure it out — and that's why we exist. We have to let people know that talent exists in people no matter their background or financial status.
Did you have your own personal moment when you realized designers of color were being ignored?
When you go back and look at the '70s, '80s, and '90s, there were tons of black designers doing really well in the industry, designers that had exclusive contracts with Bergdorf Goodman, Saks Fifth Avenue, and Henri Bendel. Now it almost feels like we have taken steps backward. Once I read Blacks in the History of Fashion by Lois K. Alexander, I was so enlightened. If she had not written that book, I would not have known that these black designers even existed. So for me it's my mission to document these creatives and do something about it, or else it could be the same situation decades later.
Do you feel as though people give multicultural designers the same respect? What has the process been like to get people involved?
It has just recently become a mix of people interested. Fern Mallis was on our judging panel, Steven Kolb came and did a conversation with a few HFR designers about their business plans, and we get a lot of support from Mayor Bill de Blasio's office, but it's taken a while for the shift to happen. At the end of the day, I think people just want beautiful clothes, but I do think that designers of color get a really bad rap and not as much respect — partially because they don't always have the things that people have, like easy access to finance and relationships. When you don't have those things, it's very difficult to get attention in such a competitive industry.
HFR has seemingly found its groove, and it's even coming out with an HFR label in exclusive collaboration with its designers. What's the plan to help these emerging designers and how should people support them? 
I ask people to support with their dollars or what they have. People have to understand that the clothes are more expensive because emerging designers don't have the financial backing that others do. You can have so much exposure on social media and still not be making a penny. We want to continue to increase awareness of these designers, as well as support them and help bring in more sales. The only way to get the best product is to see it from all perspectives. Right now, fashion is missing this perspective at the table so we will continue to push for their voices to be heard.
This interview has been condensed and edited.