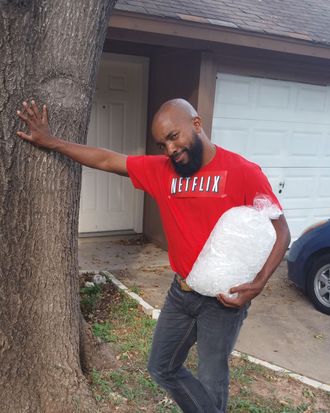 Get it??
Photo: vrpowell2000/Imgur
Why simply message someone the common let's fuck code "Netflix and chill" when you can actually be a walking, talking let's fuck code? That seems to be the logic behind this genius Tinder photo by Vincent Powell. Here he is in his online dating profile in a red Netflix logo T-shirt, clutching a bag of ice — the literal expression of everyone's favorite opening line. 
Bravo, Powell. I predict a bright Tinder future for you, full of more right-swipes than any one man knows what to do with. As for the rest of us, let's just agree to believe each other when we say we thought of this "Netflix and Chill" Halloween costume all on our own, okay?