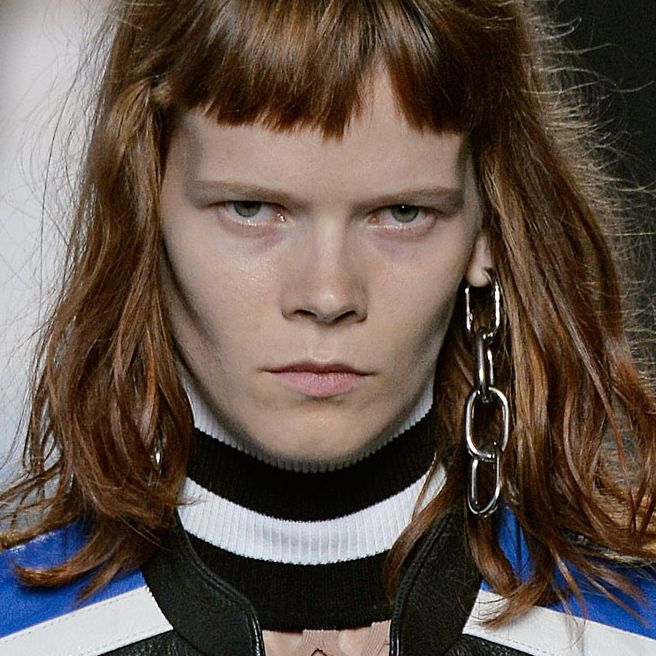 Backstage at Alexander Wang this season, the atmosphere was almost as calm as it was at Marc Jacobs's infamous no-makeup show. If the beauty look was a level zero at Jacobs's spring 2015 show, it was about 1.5 at Wang's show this season. Calling the look "no makeup" would be technically inaccurate, but makeup and hair were so minimal that some backstage photographers double-checked with models — "Have you been through hair and makeup?" — before shooting them. (Compare with a show like Givenchy, where the answer to a question like this would be obvious.)
Diane Kendal for NARS Cosmetics and her team were on hand to do what the majority of us do every day: lightly rub moisturizer (NARS Luminous Moisture Cream) on our faces and swipe very minimal concealer on blemishes. Redness around the eyes and nose was preserved. Nothing was on the brows, eyes, or even the lips, as "Alex wanted the girls to look like themselves." "That's it!" Kendal said, laughing to a group of beauty editors. "Sorry."
The bulk of the beauty look came from Redken creative consultant Guido Palau's haircut pre-party before the show. At the test and a few days prior, Palau gave ten or so girls "masculine" haircuts, while some like Anna Ewers skipped the trim. Each haircut was different. Some girls got flippy surfer layers, while some had blunt bowl bangs with short choppy ends, but all of them could be described as boyish. These weren't pretty haircuts (no contestant on The Bachelorette would ever ask for them) but they were cool.
"Alex wanted to emphasize the real masculinity of a boy. It wasn't a manicured feeling. I think the girls look supercool. They're not pretty — in this  show, that's how they should look. There's a toughness to his girls; they're not shrinking violets," Palau explained. Redken's Windswept was liberally sprayed throughout the hair to emphasize a just-dried texture, almost like what some showgoers naturally acquired from the pouring rain outside. No curling irons were used, and no blowouts were given. The small group of men in the show got haircuts as well, with some even getting an eyebrow slit, which Palau said was not gang-inspired, but a reference to '80s boxers.
The unmanicured feeling applied to the nails, too. Each model got super-short nails, so short that no white showed (Michelle Saunders for Essie called this a "pixie nail"). On top, they wore a taupe shade called Cocktails & Coconuts with two coats of Matte About You, a matte topcoat. Call this just another very achievable, and very real, runway beauty look.