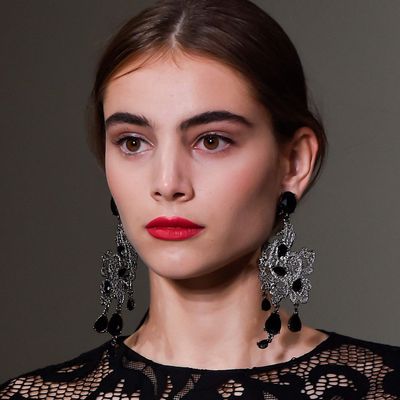 Photo: Matteo Volta/Imaxtree
We're in the homestretch of New York Fashion Week. After today, your life can return to regularly non-NYFW programmed news. But before you stop stressing out about your brows so much, considering blue eye shadow, and revisiting grunge, here's a final set of beauty lessons from the last few days. Read on to discover how to set a perfect red matte lip, create steady stripes in your nail art, and do your hair this Halloween.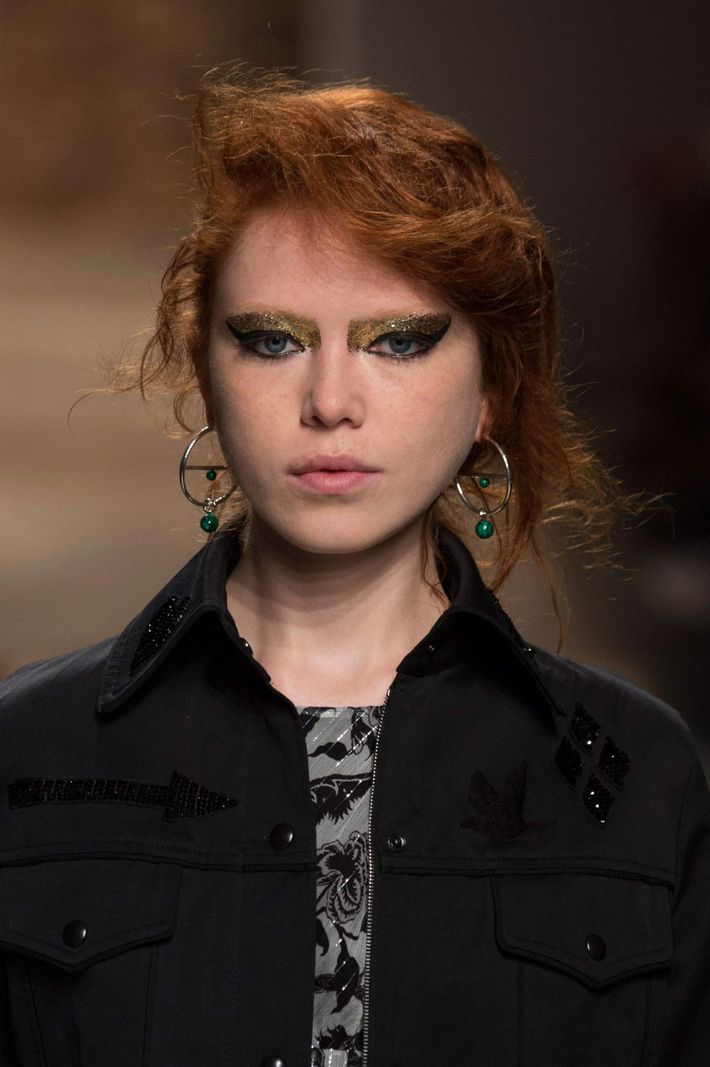 1. How to wear a modern cat eye. There are retro cat eyes and then there are modern ones. At Creatures of the Wind, makeup artist Aaron de Mey for NARS Cosmetics created a modern one by emphasizing elevation. "I like that this one swoops upward, almost at a right angle. It looks almost aerodynamic. That also elevates the cheekbones, jawline, and celebrates the shape of the eye and brow while keeping it hard and tough-looking." He achieved the look with lots of NARS Black Valley Eye Paint and NARS Black Moon Eyeliner Pencil, which he smudged under the eye.
2. How to do non-wobbly nail art. For the metallic-stripe nail art seen at 3.1 Phillip Lim, Madeline Poole used striping tape rather than polish. "You can find it on Amazon for like a dollar," she said. She likes the metallic tape because it stays on the longest and doesn't melt. Use cuticle scissors to snip the tape and place it on the nail when it is dry but still a little tacky. And don't use your grubby fingers! The oil on them can keep the tape from adhering, so tweezers work better. The milky-brown shade seen at the show is Sally Hansen Complete Manicure in All Bark.
3. Your new favorite red lip color. After seeing the lips at Oscar de la Renta, I can't get the pink-red out of my head. Diane Kendal for M.A.C Cosmetics used the M.A.C Lip Pencil in Follow Your Heart, making the lip color even more matte by placing a tissue over a freshly applied lip and brushing loose powder over it (seen below in this video by Fei Fei Sun).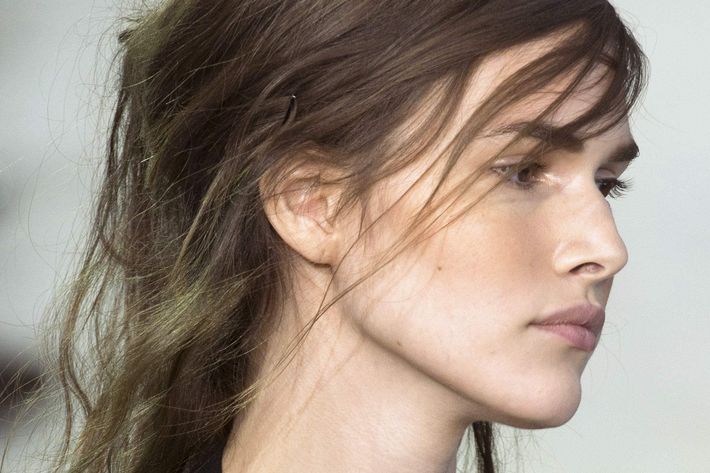 4. A new use for your curling iron. When Orlando Pita, backstage at Michael Kors, said he used a curling iron to straighten the hair, I thought it was the Fashion Week deliriousness talking. "What did you say?" I asked him. He took a strand of my hair to demonstrate, wrapping the hair around the curling iron, and then moving the barrel up and down along the length like a spool. This has the effect of smoothing the hair without straightening it and losing its volume.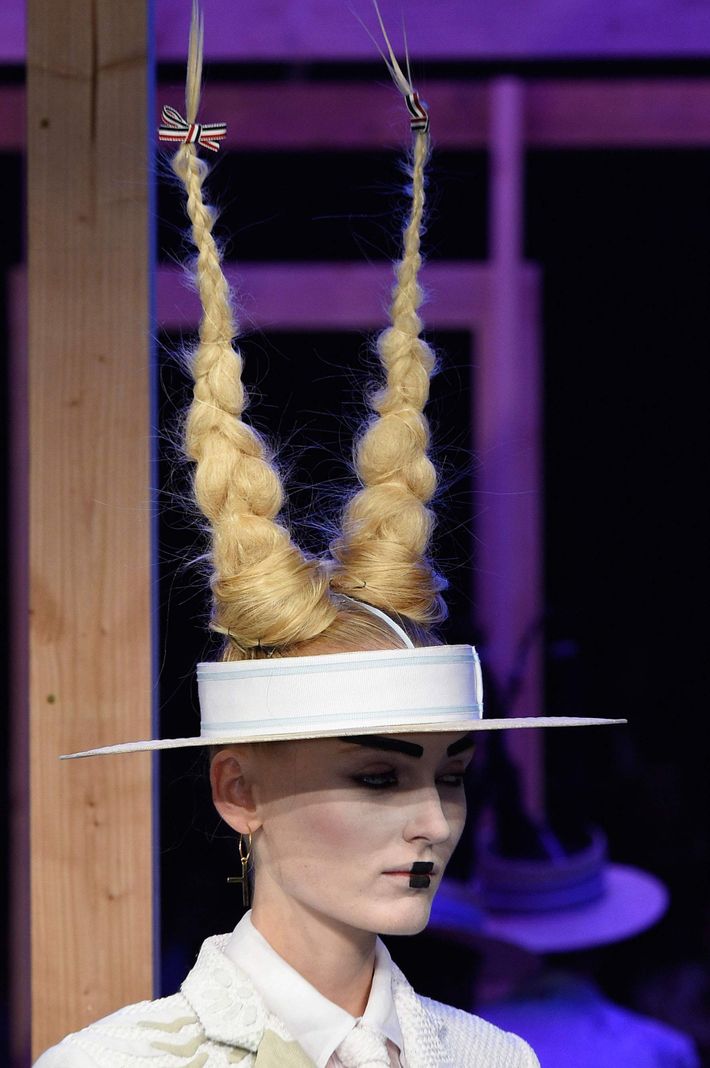 5. How to get Pippi Longstocking hair. Perhaps for this Halloween you want hair that looks like "Pippi Longstocking after a sexual awakening," as one member of the Cut described Thom Browne's scared-straight pigtail creation. Jimmy Paul for Bumble and Bumble divided the hair into two halves, then aggressively backcombed it and applied liberal amounts of Bumble and Bumble Thickening Spray until it became practically immobile. He then did a three-strand braid, using wire in some of the braids to further keep the look upright.