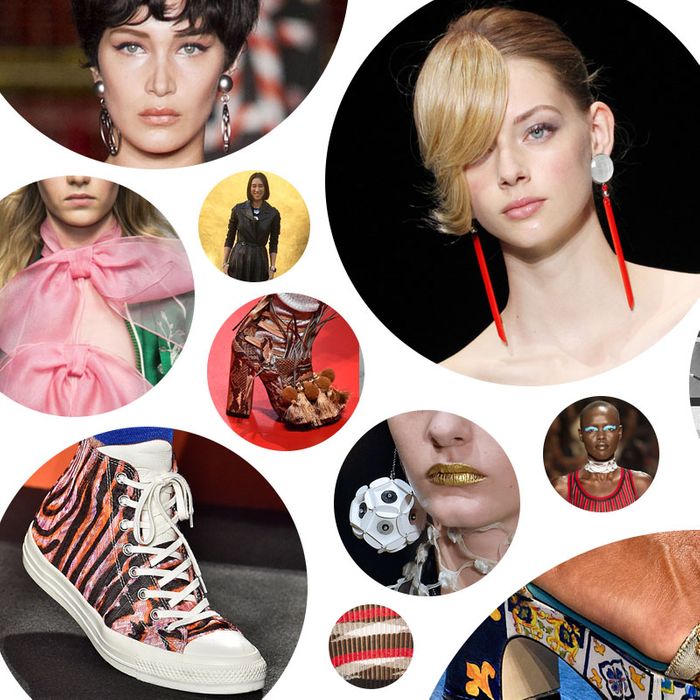 Photo: Getty Images, Imaxtree, Instagram
If Milan were heaven, the streets would be paved with crocodile, and dozens of dewy young men and women would greet you, all dressed in next season's Gucci. They'd serve pastel delicacies from Prada's newly opened Pasticceria Marchesi, while Guido Palau braided your hair into Bottega's intrecciato pattern. And though it's not quite heaven, during Fashion Week Milan does have many celestial moments. Below, a collection of our favorites, including Dolce & Gabbana's ode to selfies, Moschino's car wash, Prada's museum, Pat Cleveland's daughter, and more.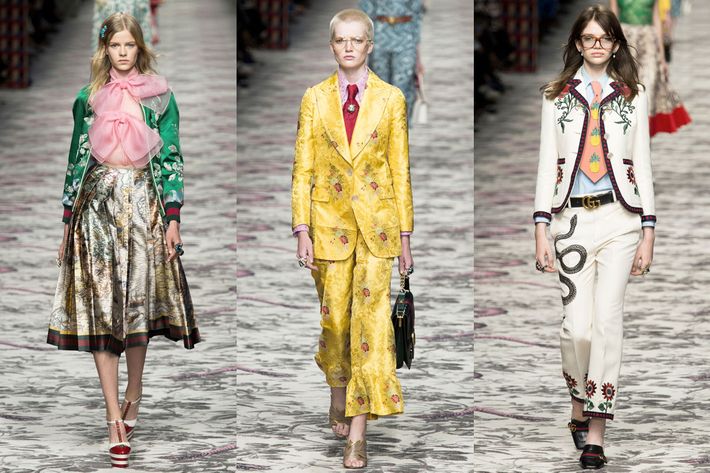 This season, fashion's hivemind buzzed for Gucci designer Alessandro Michele. You couldn't throw an olive without hitting someone wearing Gucci. The Via Montenapoleone store had more action than a Uniqlo, and forget about trying to get a pair of the furry loafers for women — they're totally sold out (though lucky big-footed lady editors were still able to buy men's sizes). On Sunday alone we saw three people wearing the green floral pajamas, including Bazaar's Glenda Bailey — a real shock since we can't recall ever seeing her in pants.
Milan had some of the best shows in years, and it wasn't only about Prada and Gucci. Versace had a strong military collection, maybe our favorite in a long time. Ditto for Ferragamo, which seems to have finally gained command over how much leather to use in a garment. Their cotton sundresses were both elegant and warm-weather appropriate. Missoni toned it back a bit with a collection that felt simple enough to wear for years to come. At Marni, Nina Simone's "Baltimore" was the perfect music for the tunics over shirts and primary colors integrated with hunter green and caramel browns. Ms. Simone would have done justice to those looks. PS: That gold handbag is at the top of our wish list.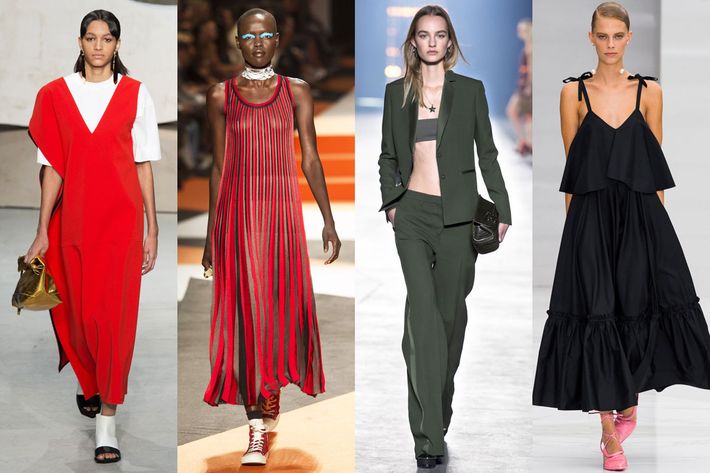 Riccardo Tisci continues his world tour, sitting front row at Prada, and throwing the best party in town. Nicki Minaj went on at 2 a.m. at the Givenchy party on Friday night, putting on a show that rivaled concerts you would have paid good money to see.
Editors were vehemently divided on Dolce & Gabbana's theme of "Selfies." It's true that as the models walked the runway, stopping to shoot themselves with cell phones, it did make it hard to concentrate on the clothes. But the Dolce woman is too busy having fun to give a ripe Sicilian fig what anybody thinks of her self-confidence. The clothes have lots of pom-poms, golds, reds, roses, and the word Italy on them. If you love Dolce & Gabbana, you will also love this collection, so go take a long, luxurious look and then Instagram a kissy-face selfie with your middle finger up.
Speaking of gimmicks, Moschino's literalism is a joy. Is there anything in the world that Jeremy Scott cannot turn into a piece of fashion? Hanging out at the car wash? Make that swirling brush into a minidress. See that traffic cone? Wouldn't it make a great hat? (Yes, and throw on some sequins for good measure.) But even with all of the overt references, Scott holds his audience in rapt anticipation over what fun, visual joke he will make next.
Your earlobes will hurt next spring. Those giant earrings we were seeing in New York at Rosie Assoulin and Proenza Schouler were just an aperitivo for the main course: Prada's swingy Christmas-balls, Tod's cut-glass teardrops, and Armani's glitzy wind chimes were but a few of the tortuously chic options.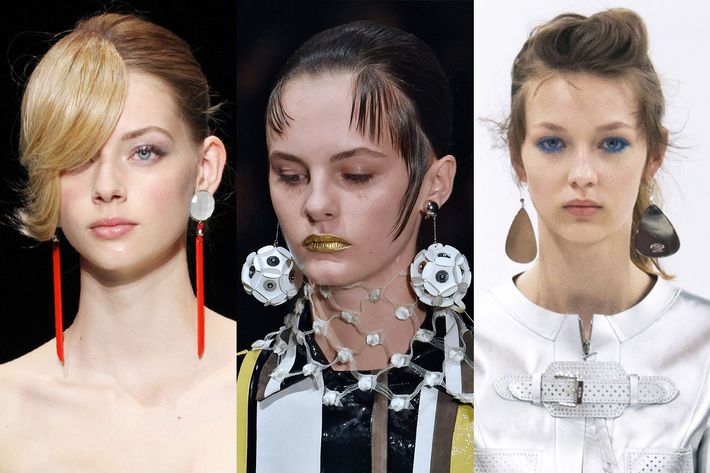 This was the season of the supermodels versus the alterna-girls. Bottega brought seven stars of past campaigns to walk the show, including Isabeli Fontana, Joan Smalls, Liya Kebede, Kasia Struss, and Karmen Pedaru.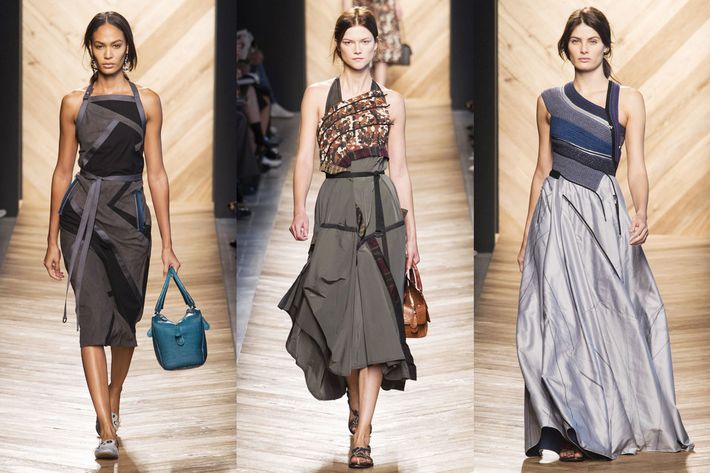 But several new women stood out as well, mostly for their striking, short, or, in some cases, nonexistent hair styles.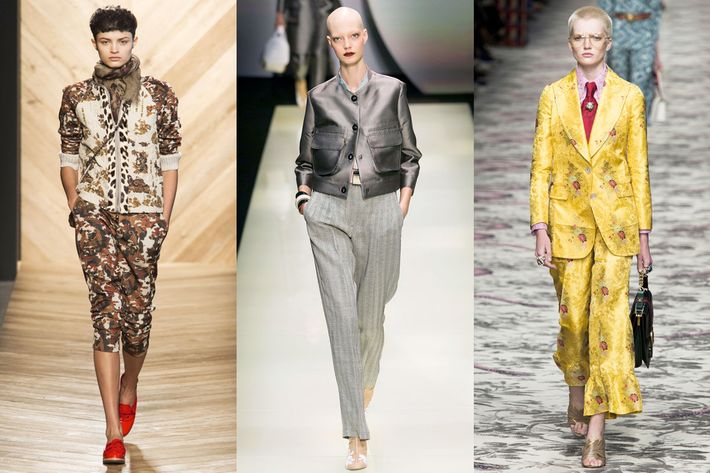 Note to designers: We'd like to see more of the theatrical Anna Cleveland (daughter of Pat, current star of the Bottega Veneta ad campaign). Her long nose and hips-first stride make for an irresistible cocktail of DGAF attitude, jolie laide, and fashion pedigree.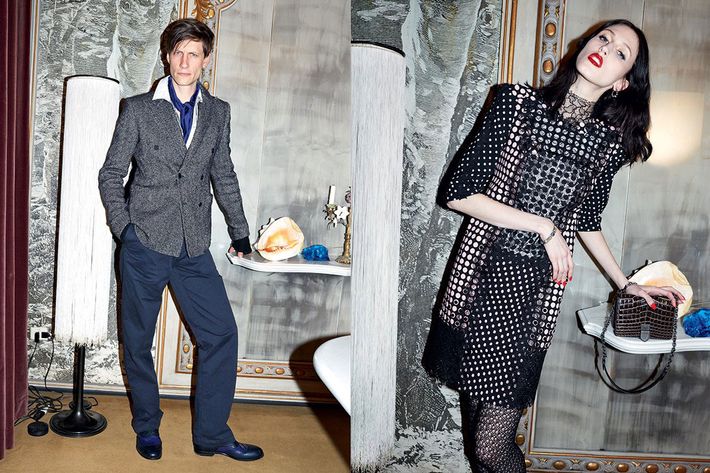 As Instagram-famous models go, this was Bella Hadid's week. Kendall, meanwhile, was nowhere to be seen.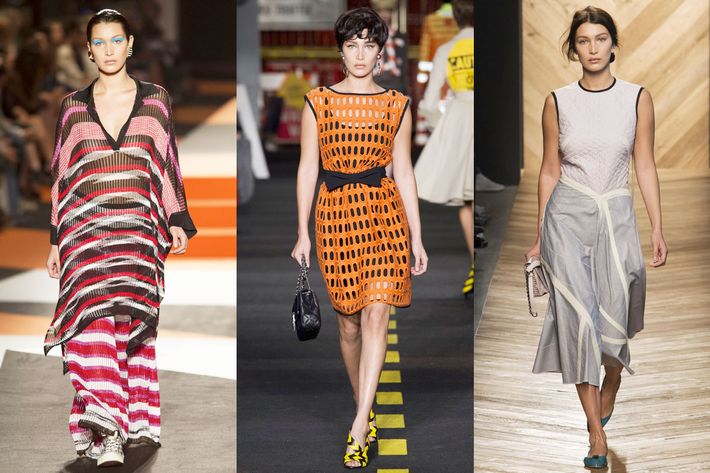 The shoes are always phenomenal in Milan. We loved No21's spectacular heels — like birds you'd discover in the rain forest that can't be explained in evolutionary terms — and Dolce's rollicking, embellished sandals. We also couldn't stop looking at Prada's lace-up flats with metal balls, Missoni's cool patterned Converse, Gucci's crushed-heel stacked loafers, Zanotti's L.A.-themed chain heels, Gianvito Rossi's lingerie-inspired cage heels, Marni's arty pumps, and … and … a hundred more. We lost count. But we took many photos so we can help you next spring when it comes time to buy — because you're going to want a lot of these.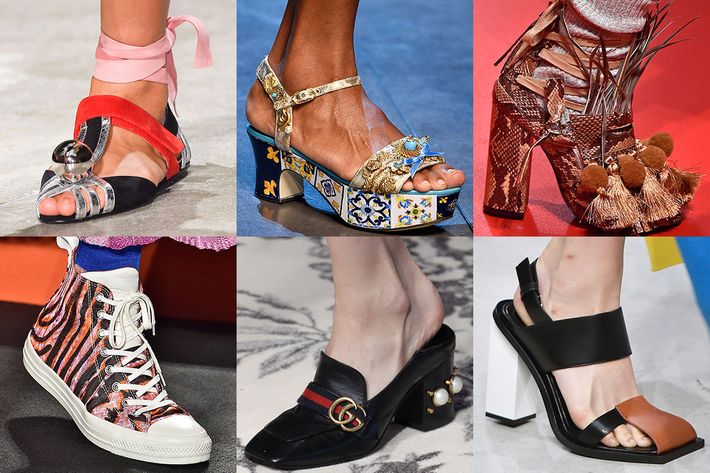 Between shoe appointments, shows, and shopping for Gucci, editors were busy Instagramming themselves at the Prada Foundation. A few also seemed to enjoy the impressive art collection.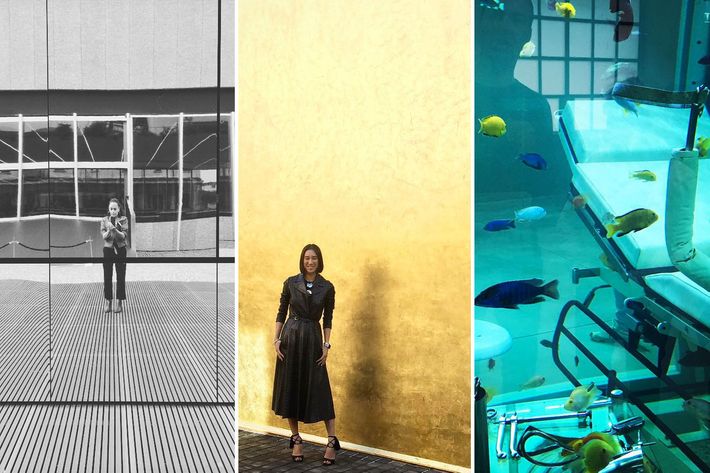 And last, but not least, after too many pasta dinners and sitting on benches looking at skinny 16-year-olds, we leave you with our theme song for the week:
Follow us in the coming days in Paris where Cathy Horyn and Rebecca Ramsey continue the fun.