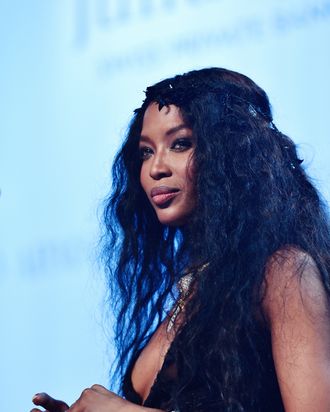 Naomi Campbell.
Photo: Le Segretain/Hekimian/Getty Images
Long have freedom fighters like Chelsea Handler, Miley Cyrus, and Rumer Willis advocated (mostly unsuccessfully) for the right to display nipples in public spaces and on Instagram. Handler, for all her hard work, only lasted 30 free minutes on Instagram before the powers that be took her ballsy shot down. But while the war has not been won, perhaps a supermodel has fought one small battle.
Naomi Campbell uploaded a bare-chested photo of herself to Instagram almost 20 full hours ago and only after all those hours did Instagram take it down. The photo is both a scandal-inducer and a promotional tactic for Campbell's forthcoming two-volume Taschen book, which was previewed in GARAGE magazine this month. Thirty minutes for Handler, 20 hours for Campbell — are we only a few photographed areolas away from nipples being free forever?