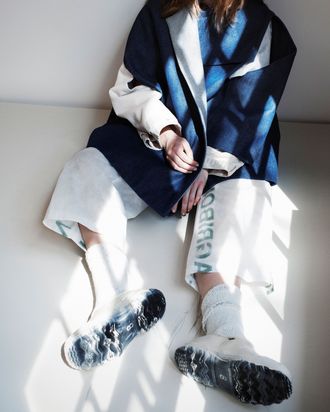 A look from Claire McKinney spring 2016.
Photo: Claire McKinney
Denim has gone from a humble workwear fabric to a status symbol to an avant-garde canvas over its long history, and emerging labels like Marques'Almeida and Faustine Steinmetz are continuing to push its boundaries. Freshly graduated from Pratt, designer Claire McKinney is doing the same — but her particular riff focuses on farmhand staples.
After spending time on a farm on an isolated Swedish island last summer, she found herself fascinated by the denim the workers wore. She returned home to Oregon, where she began collecting "hundreds of pairs" of used jeans. "I would just go bring empty suitcases and bring them back [full]," she says. "I never was that drawn to going to a fabric store. I'd rather go to thrift stores and find some sort of value in materials that someone didn't care about anymore."
Once she'd assembled all those cast-offs, McKinney turned her studio into a laboratory of sorts. She experimented with bleaching to turn one pair of jeans the perfect white-blue. ("It was a very sort of scientific process, getting this exact color that I wanted," she says. "It's a very Scandinavian feeling of being very whitewashed, and I was just noticing a lot of the materials had this literal white wash when I was on the farm.") A huge, capelike denim dress is made from eight yards of fabric, which McKinney heavily sanded; a formidable smock is made from a Salvation Army blanket. ("A lot of these required super-heavy hangers," she concedes.) She made one shirt out of a Tyvek-like white fabric: "It's this material they stretch over plants to keep them from frosting in the winter. I remember seeing that a lot on the farm, and then bought it here." In her hands, it's reimagined as an elegant, oversize blouse. Many of the pieces are printed with hand-set type, inspired, she says, "by strange Talking Heads lyrics and things that were kind of floating around in my head."
The pièce de résistance is a pair of jeans that is almost completely demolished by a seam ripper, leaving only a waistband and inseams. "I was just curious about what a pair of jeans would look like with nothing but the seams. So I went ahead and did it — it was terrifying at first." She eventually lined them with a drop-cloth material. The results are far from practical, but, she says, "playing with it as a styling piece was really fun."
For inspiration, the designer drew on photos of her farming ancestors, but not in a completely reverent way. "I feel like designers who pull too much from the past can get stuck into this rut of being overly nostalgic," she says, "but I always wanted to bring those ideas into a more current and fresh place." McKinney doesn't plan to produce the collection, though she is selling the pieces by request. She currently works on the design team at Creatures of Comfort and hopes to launch her own line at some point in the future. In the meantime, she'll continue her design experimentation: "I just need to set up some studio space and get things rolling."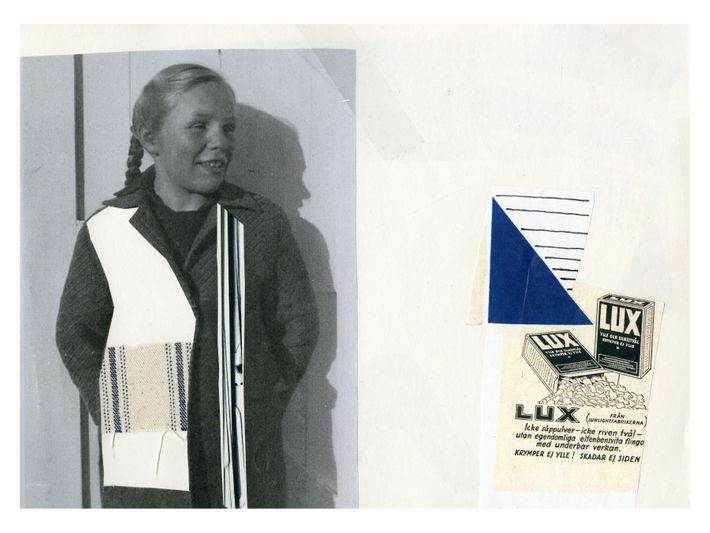 Claire McKinney's Spring 2016 mood board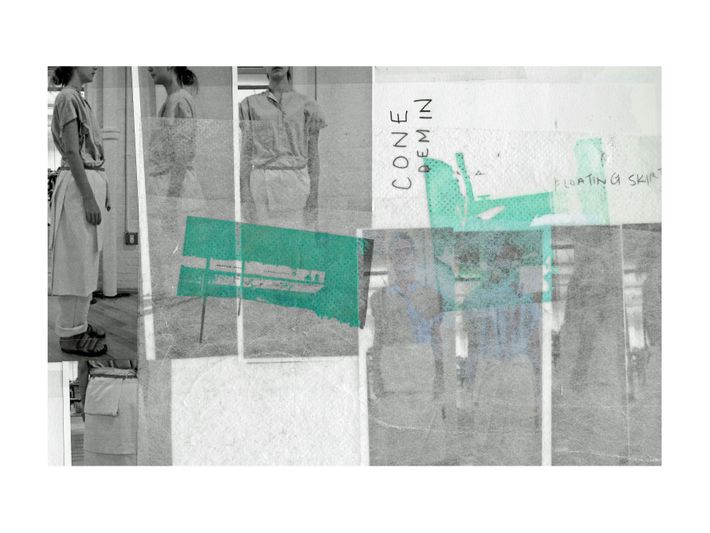 Claire McKinney's Spring 2016 mood board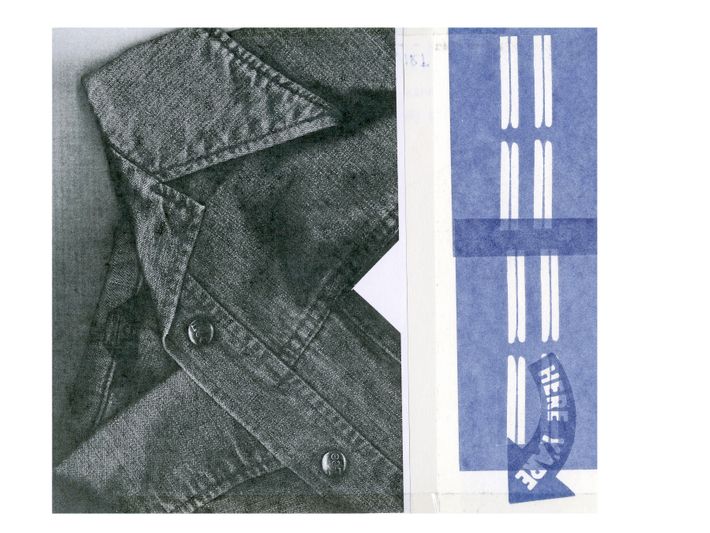 Claire McKinney's Spring 2016 mood board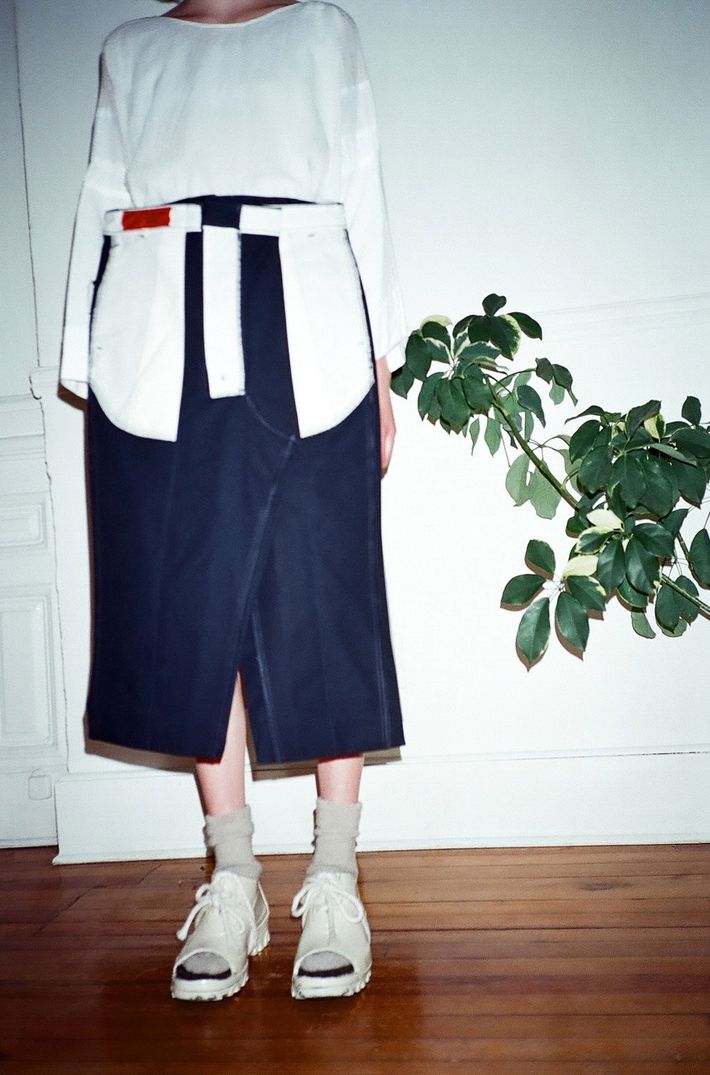 A look from Claire McKinney Spring 2016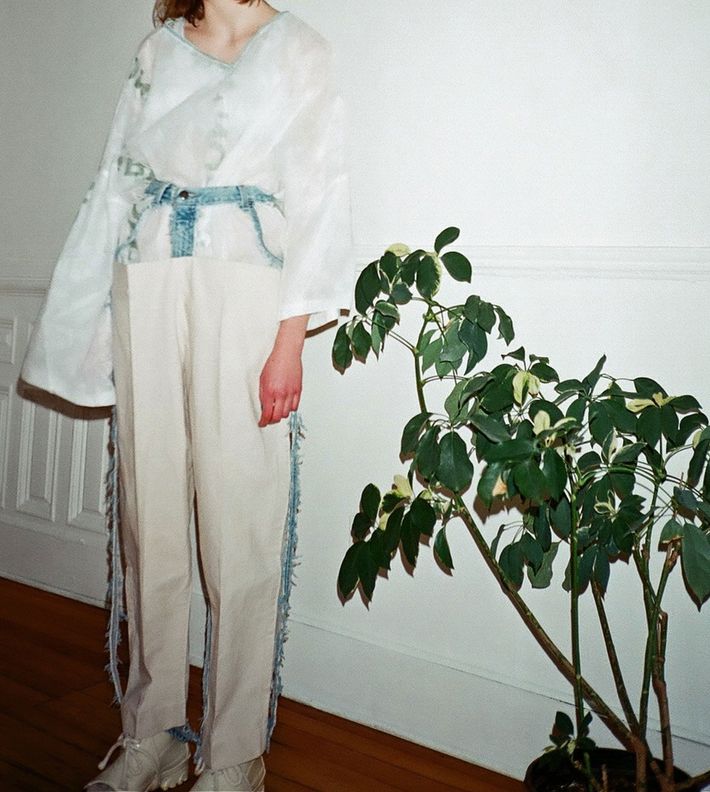 A look from Claire McKinney Spring 2016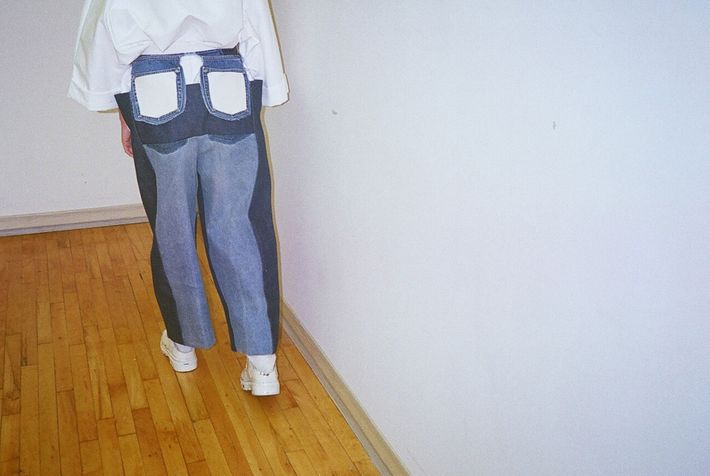 A look from Claire McKinney Spring 2016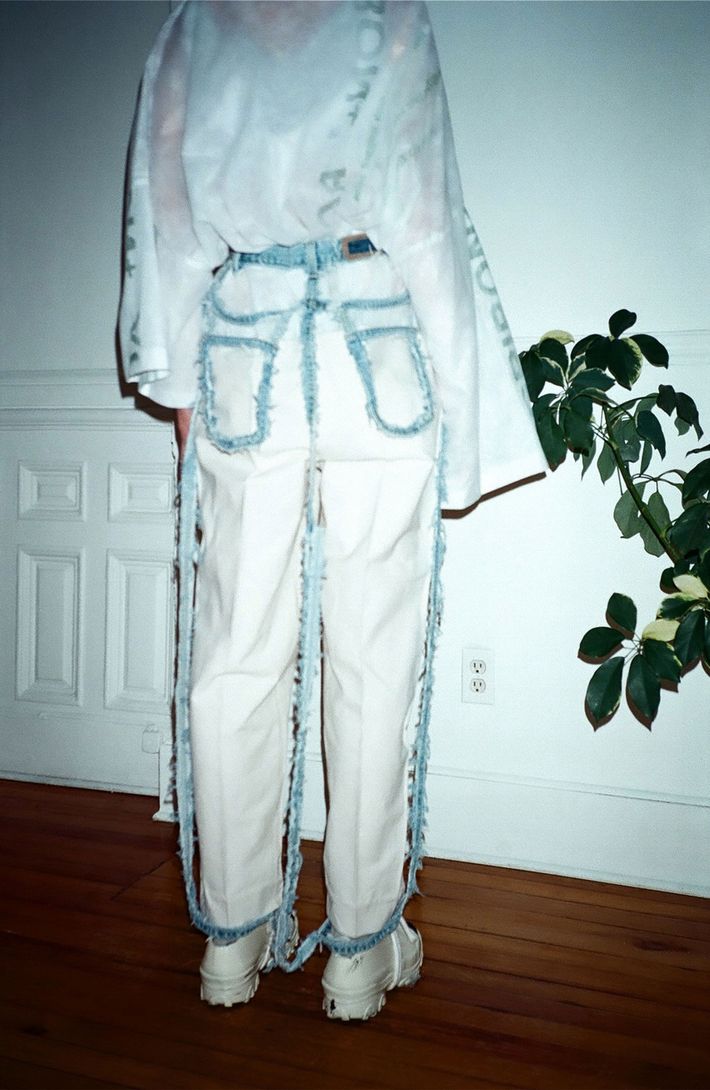 A look from Claire McKinney Spring 2016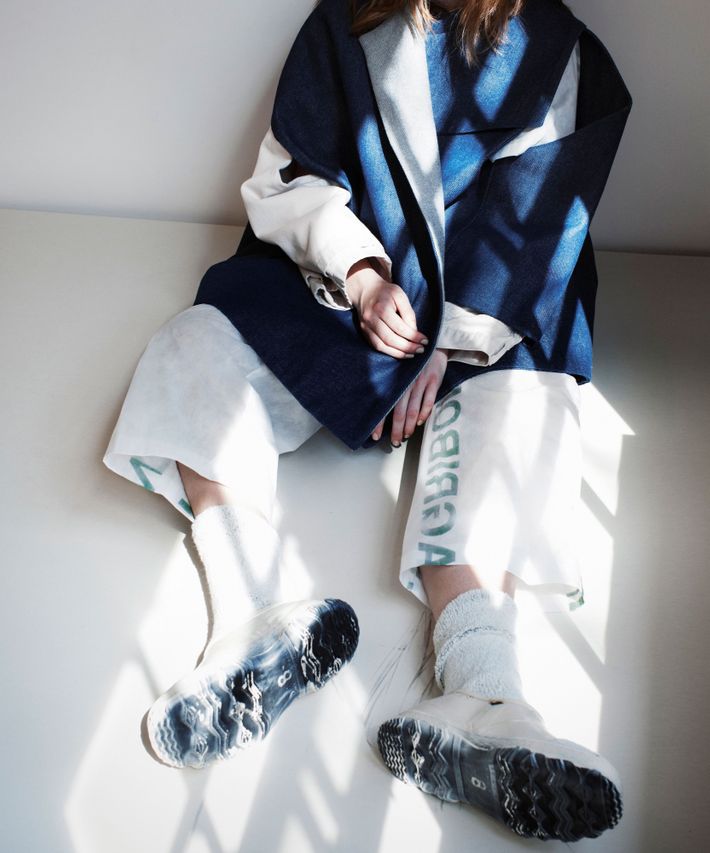 A look from Claire McKinney Spring 2016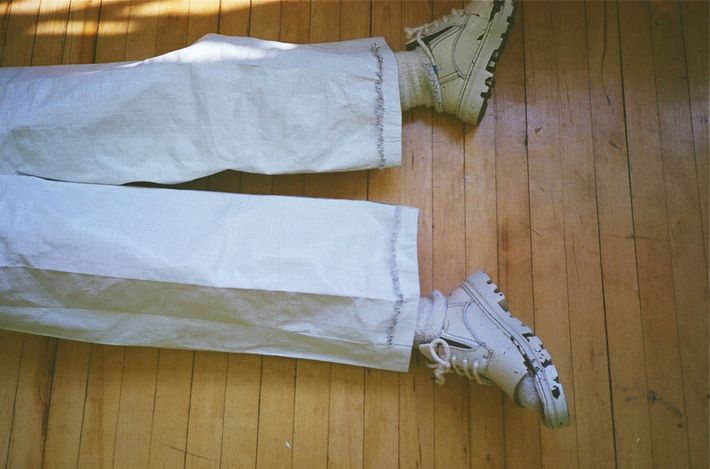 A look from Claire McKinney Spring 2016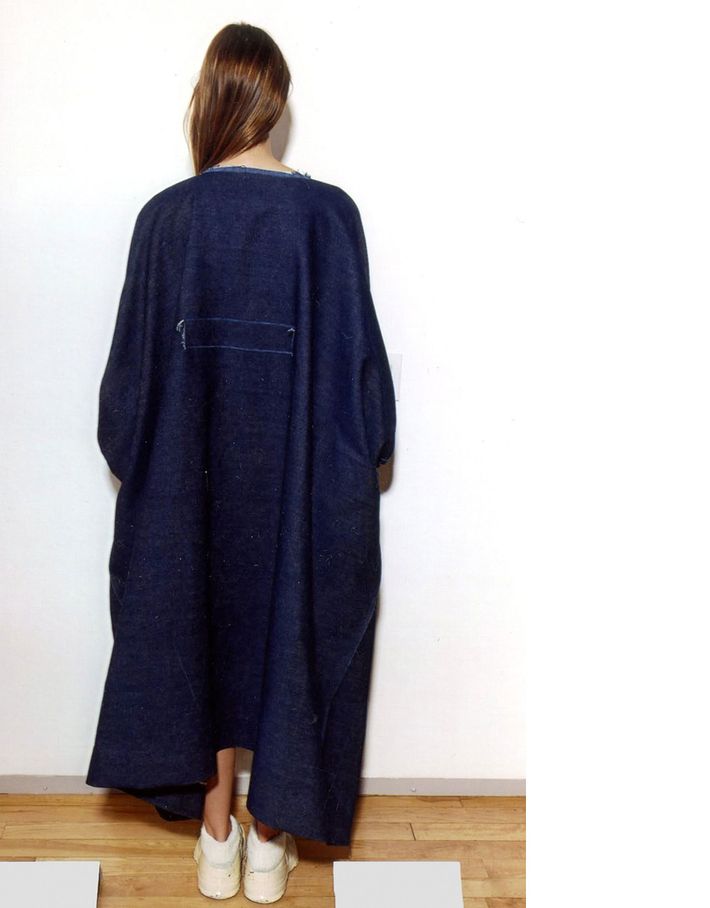 A look from Claire McKinney Spring 2016