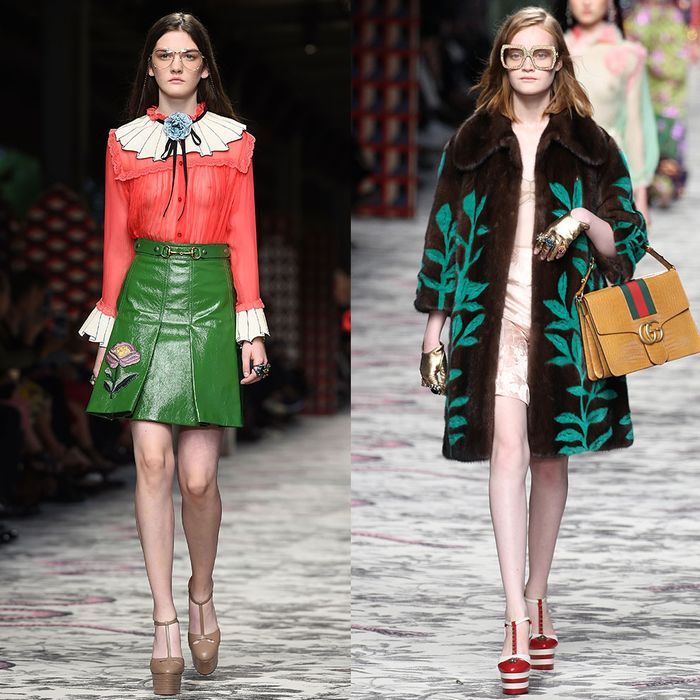 Gucci spring 2016.
Photo: Getty Images
Snakes carpeted the Gucci runway at Alessandro Michele's latest outing for the house today. If this were coming from another designer, you might have expected a literal interpretation of the theme and indeed, snakeskin and actual snakes (along with a zoo's worth of fish, ladybugs, parrots, and other eccentric animal embellishments) were on display. But this collection wasn't simply a celebration of quirkiness: It contained multitudes.

Michele nodded to the house origins from the very first look: a green lace dress with the signature webbed belt and logo loafers. Still, his focus seemed to be on a Western (as in ranch hands and vaqueros) influence. The models wore roses in their hair, Manuel-esque tailored suits, and feminized translations of the string tie.
Along with the Sergio Leone–style homage, we learned of Michele's regard for Garden of the Finzi-Continis Euro-prep, gene-spliced with a '70s jet-setter (chevron prints, shiny turbans, Lurex-y shine). He worked Asian-inspired textiles into many of the looks as well. And of course, there were oversize glittery glasses (for the MLS-seeker who's into glam rock), map and leaf prints, and other hallmarks of the ultrapersonal, bricolage style that Michele continues to celebrate. In his somewhat academic show notes, the designer described the clothes as "eclectic palimpsests rich with heterogeneous references." That's a mouthful, but it's certainly accurate — each model seemed more like a character, outfitted by a costume designer who had thought out each girl's conflicting set of traits — a look arrived at via a shrugged-on fur coat borrowed from her grandmother, a lion's head belt nabbed from Mom and recontextualized as an offhand accessory, and a wide tie picked out from the menswear department.

When the collection veered into girly or sexy moments, it did so with a decided irony. Sheer dresses came in the hues of childlike nightshirts, while the jokey trompe l'oeil ruffles and bows made it seem as though Michele were quoting the motif rather than using it. His palette is ultrabright and embellished, but he always seems to hold back from those traditional signifiers of femininity.

Ultimately, Michele is tasked with redefining luxury, and removing the cheesy association we might have with things like fur and gold lions and sequined evening gowns. Luxury no longer means something ostentatious or body-con or otherwise appropriate for deplaning the Concorde. Michele is speaking to, and it seems attracting, a new kind of luxury customer, one who's more interested in working new fashion into her existing aesthetic than being a walking billboard sporting a total look. That doesn't mean there isn't room for all things shiny, glittery, and luxe — Michele is a proud maximalist in a pared-down, oatmeal-colored landscape — just that he's found a way to put it in a whole new context. And that's what has made his ascent so exciting to watch.