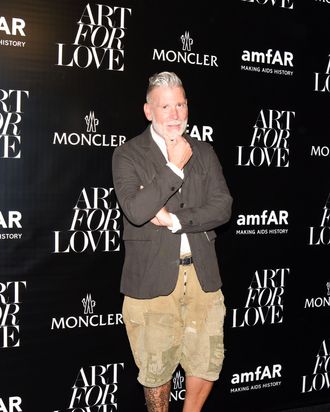 Nick Wooster, classic man.
Photo: Owen Kolasinski.com/BFA
This Fashion Week, Moncler had 32 top photographers interpret its classic Maya jacket (which it's been producing since 1954) in their own sensibilities, with the results auctioned off to benefit amfAR. We ran into Nick Wooster at the exhibition's launch on Friday, and the style star, whose every fashion nuance is scrutinized by his half-million Instagram followers and numerous street-style photographers, insisted that he's actually not as fashion-forward as we may think.
He told us that he stocks his wardrobe with some never-changing staples that he wears year in and year out, including Tricker's wingtip shoes, crocodile belts from Brooks Brothers or Ralph Lauren, and Brooks Brothers' white oxford shirts and boxer shorts. "A lot of it doesn't change," he said. "I'm really pretty classic."