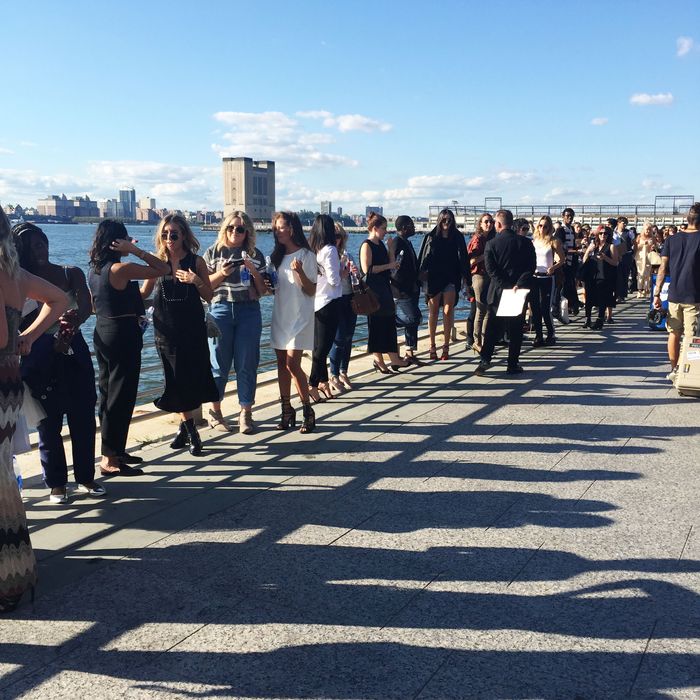 Once, when I was 18, I cut school to line up five hours early for a John Mayer concert. Grown men routinely wait in line for days to get first access to a new Supreme product. Recently, people lined up overnight for Rihanna's appearance at Macy's in Brooklyn. Others, including me, waited hours in the pouring rain last night to get into the Refinery29 art installation/party.
So when Givenchy released 410 tickets to their fashion show to the general public, one would assume that some of those lucky ticket-holders would arrive early — like Super Early — in anticipation of their once-in-a-lifetime experience. Plus, this was a huge, rare opportunity: the chance to see Riccardo Tisci's first show as Givenchy's Creative Director, and the house's first New York showing.
At 12:30 p.m., there were many barricades and black-suited security guards — signaling that Givenchy's team expected people to be there — but nobody was actually there. I left, got a sandwich, came back.

At 3 p.m., still, nobody was there. A Givenchy press team member told me I should go get a drink and come back.
It wasn't until 4:45 p.m., barely over an hour before doors opened at six, that people finally started arriving. "Well, we came at three, left, and came back," said a couple in from Connecticut. They were attending because their daughter couldn't use the tickets. One guest had come from a funeral. Several had work, some had classes that they either couldn't skip or didn't feel like they had to skip. Two women from Zurich got the email they'd received tickets a few days ago, booked a plane ticket, and flew into New York today. Since they were airborne, they obviously couldn't fangirl-out by arriving hours early.
Tevin Campbell, a 19-year-old computer-engineering major and photographer from Yale, took a two-hour train down. "I really wasn't too worried," he told me. He figured he already had a ticket, so why bother waiting around hours for a fashion show? Outside the fashion-world bubble, it turns out, this was a sentiment shared by many.
I explained to a 21-year-old fashion student named Marjorie Vieux that I'd expected people to be here at 12:30. And she looked at me like I was insane. "I mean … will Beyoncé be here?" she asked. "I'd line up at 12:30 for Beyoncé."