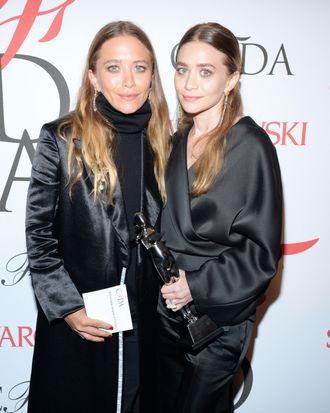 Mary-Kate and Ashley Olsen.
Photo: Kevin Mazur/Getty Images
After about 40 former interns for Mary-Kate and Ashley Olsen filed a class-action lawsuit against them last month, alleging grueling hours and lack of pay or college credit, the designers quickly responded, calling the claims "groundless." Now, The Daily Mail has obtained court documents dated September 14, in which the Olsens, via their company Dualstar, systematically deny each of lead plaintiff Shahista Lalani's claims.
Lalani told "Page Six" she worked 50-hour weeks at the twins' label The Row, without receiving school credit, and in the lawsuit, claimed that the company was using interns to do the work of full-time employees and sending them on non-work-related errands. According to the court filings, the Olsens deny that they acted in a "reckless or malicious manner," and are requesting that Lalani pay their legal fees. This doesn't sound like it will be resolved anytime soon.