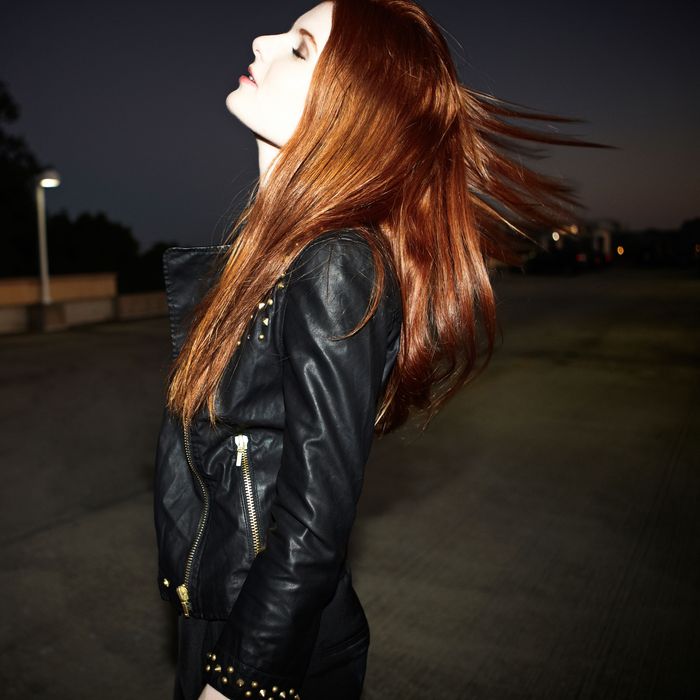 Photo: Brook Pifer/Getty Images
The Cool Girl leans against the façade of a bar somewhere in Brooklyn, smoking a Lucky Strike from a pack smuggled through customs by her ex-boyfriend. She is wearing patent-leather platform brogues — or maybe studded pumps? Whatever, she's definitely wearing shoes. Cool shoes.
"Hey," says her friend Igby, a part-time DJ, part-time electronics trash collector. "What's up," she replies, so chronically bored it's difficult to summon the energy to speak. She nods his way, a lock of hair falling into her face: Her hair is shiny, not greasy, and perfectly mussed. She's wearing a sports bra as a shirt, but it looks chic and not like she's just coming from the gym. (She is never just coming from the gym, because she is naturally thin.)
The Cool Girl does not struggle with problems that vex the non-cool. Anxiety about this fall's trendiest way to tie a scarf does not plague her, for example: She just knows (kind of like you're a '70s flight attendant, but cooler). She does not fret over what dress to wear on her wedding day, when she finally ties the knot in an intimate ceremony in a friend's cottage in Westerly (an asymmetrical crop top with petal-hemmed culottes in white silk faille). The Cool Girl always has a bomber jacket somewhere, just in case.
Her jeans are vintage and cuffed to Cool Girl perfection, and her skin glows with the knowledge of her coolness, and also Glossier products.
"You coming inside?" Igby asks, as she extinguishes the butt of her cigarette with her platform brogue pumps. He looks into her eyes, beyond the tortoiseshell glasses. The Cool Girl smiles, turns away, starts walking — no, floating — into the glare of the streetlamp. He is trying to really see her, but she can't be seen. She is ethereal, as temporary as her flash tattoo.